News
Shannon Bream Calls NPR Report on Gorsuch 'Not Accurate'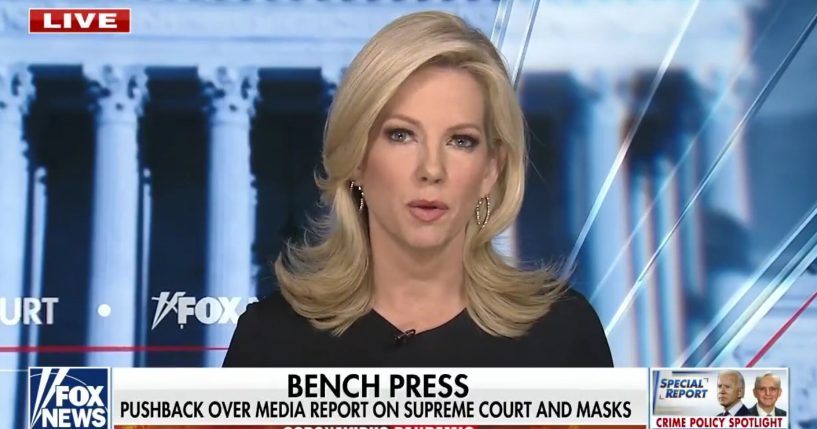 Fox News's Shannon Bream commented on a report published by NPR about Supreme Court Justices Neil Gorsuch and Sonia Sotomayor, saying it is "not accurate."
During an appearance on "Special Report" with Bret Baier, the anchor asked Bream what she had been able to find out about the report.
Bream noted NPR reported that Sotomayor "did not feel safe in close proximity to people who were unmasked. Chief Justice John Roberts, understanding that, in some form asked the other justices to mask up."
Advertisement - story continues below
She continued, "It then says that Justice Gorsuch, who normally sits right next to Sotomayor on the bench, has repeatedly refused to do so, and that's forced Justice Sotomayor to operate remotely from her office for arguments and conferences."
The report also pointed out that Sotomayor has diabetes, adding, "A condition that puts her at high risk for serious illness, or even death, from COVID-19."
Bream told Baier she has been told the report is "not accurate."
She added, "A source at the Supreme Court says there's been no blanket admonition or request from Chief Justice Roberts that the other justices begin wearing masks to arguments. The source further stated Justice Sotomayor did not make any such request to Justice Gorsuch. I'm told, given that fact, there was also no refusal by Justice Gorsuch. The justices are all vaccinated and boosted, and they do test before taking the bench for arguments."
Advertisement - story continues below
Watch her comments below:
Two big pieces coming out of the Supreme Court today, discussing with @BretBaier pic.twitter.com/67w3EHovUB

— Shannon Bream (@ShannonBream) January 18, 2022
According to Fox News, Mike Davis, a former law clerk for Gorsuch, denied the report.
"Fact Check: 100% False," he tweeted. "The Chief never asked his colleagues to mask up, for any reason."
Truth and Accuracy
We are committed to truth and accuracy in all of our journalism. Read our editorial standards.
Comment Down Below
Conversation