News
Brian Stelter Claims Chris Cuomo Is 'Trying to Burn the Place Down' After CNN Fired Him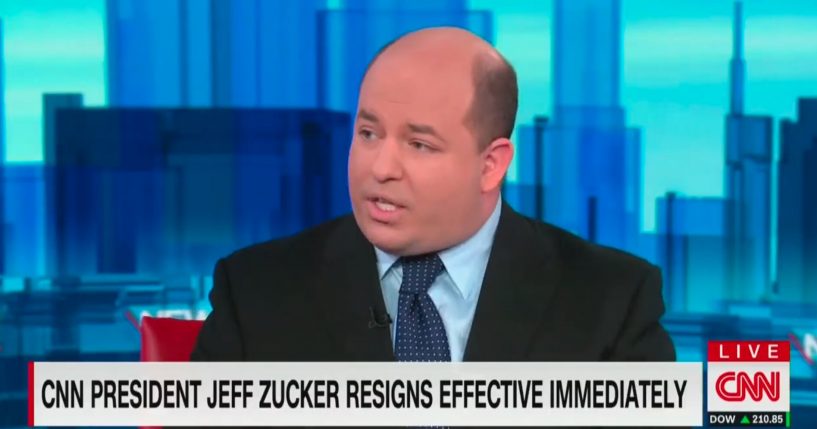 CNN's media correspondent Brian Stelter says his former colleague Chris Cuomo is "trying to burn" the network "down" after it fired him last year.
On Wednesday, Stelter said, "Cuomo was fired in December, and he is not going out quietly. He was fired, and there were reports that he wasn't going to get paid the millions of dollars that were going to be in the remainder of his contract."
"So, as a source said to me earlier today, he was trying to burn the place down. He was going to court trying to burn the place down and claiming that he had incriminating information about Zucker and Gollust. So if that's the case, if this is a domino that begins with Andrew Cuomo going down in the governor's office, and then Chris Cuomo being fired from CNN, and then Jeff Zucker losing his job at CNN, that is a remarkable domino effect," he added.
Advertisement - story continues below
Watch the video below:
"Cuomo was fired in December, and he is not going out quietly … He was trying to burn the place down." — @brianstelter on Jeff Zucker's resignation pic.twitter.com/o05iuKz9WE

— Mediaite (@Mediaite) February 2, 2022
In Dec. 2021, CNN announced it suspended Cuomo after new details came to light about the extent of his involvement in helping former New Gov. Andrew Cuomo, his brother, respond to allegations of sexual harassment.
It later said it fired Cuomo after it retained a law firm to review information about his involvement in his brother's defense.
Advertisement - story continues below
The New York Post reported that the former anchor was expected to file a lawsuit against the network if he did not receive at least $18 million to cover the remainder of his contract. However, a CNN insider told the Post the network had "no intention of paying [Chris] Cuomo a penny."
Stelter's comments come after CNN President Jeff Zucker announced his resignation.
"As part of the investigation into Chris Cuomo's tenure at CNN, I was asked about a consensual relationship with my closest colleague, someone I have worked with for more than 20 years. I acknowledged the relationship evolved in recent years. I was required to disclose it when it began, but I didn't. I was wrong," Zucker wrote in a statement.
Allison Gollust, chief marketing officer at CNN, confirmed that she had a consensual relationship with Zucker.
Gollust is a former aide to Andrew Cuomo. She worked for the former governor for four months in 2012 and 2013.
Advertisement - story continues below
Politico reports that during the network's investigation of Chris Cuomo, his legal team "raised issues about the relationship between Zucker and Gollust."
"Cuomo's legal team asserted that Zucker was hypocritical to suggest Cuomo had a personal conflict of interest when the relationship with Gollust represented a potential conflict as well," the outlet added.
Truth and Accuracy
We are committed to truth and accuracy in all of our journalism. Read our editorial standards.
Comment Down Below
Conversation