News
Texas Gov Hits Back at NYC Mayor's Threat to Send New Yorkers to Campaign Against Him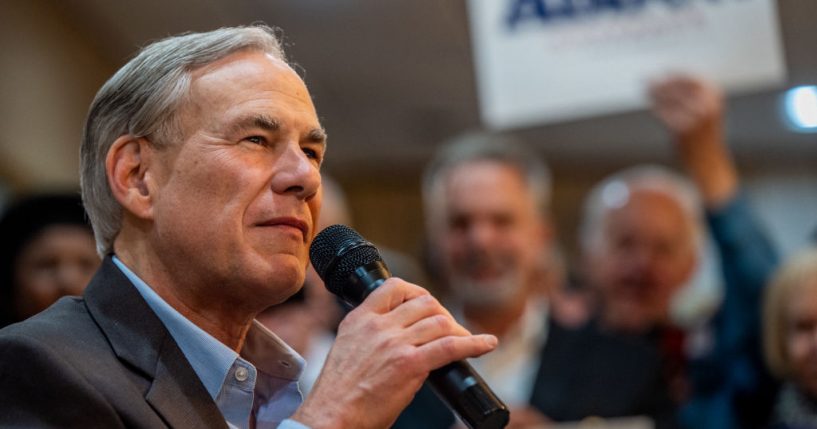 Texas Gov. Greg Abbott (R) has pushed back against New York City Mayor Eric Adams' threat to send New Yorkers to campaign for Abbott's opponent in the upcoming gubernatorial race.
Adams was responding to Abbott's move to send busloads of illegal immigrants to New York City.
"I already called all of my friends in Texas and told them how to cast their vote, and I am deeply contemplating taking a busload of New Yorkers to go to Texas and do some good old-fashioned door knocking because, for the good of America, we have to get him out of office," Adams said Tuesday during a press conference according to Fox News.
Advertisement - story continues below
NEW: NYC Mayor Eric Adams says he is "deeply contemplating" filling up a bus with New Yorkers and driving to Texas to knock on doors because "for the good of America, we have to get [Gov. Abbott] out of office."

Gov. Abbott says Texas will be sending more migrant buses to NYC.

— Bill Melugin (@BillFOXLA) August 9, 2022
A representative of Abbott's campaign responded to Adams' comments later Tuesday.
Campaign spokesperson Mark Miner told Fox News Digital, "Because of high taxes, out-of-control crime, and poor leadership by the Mayor, people are volunteering to leave New York City without the Mayor asking."
"It looks like Mayor Adams has taken on the additional role of political director for [Democratic candidate] Beto O' Rourke." 
Advertisement - story continues below
According to The New York Post, Abbott also responded personally to the threat saying, "You know, I kind of feel like Clint Eastwood. Go ahead, mayor. Make my day," he said.
Abbott was harkening back to a 1983 movie, "Sudden Impact," where San Francisco detective "Dirty Harry," played by actor Clint Eastwood, was faced with a robber who was holding a coffee shop waitress at gunpoint.
The quote was also used by former President Ronald Reagan who famously used the phrase in 1985 when he threatened to veto "any tax increase that Congress might even think of sending up."
Abbott continued his response to Adams saying there "could hardly be anything better" for the Abbott campaign than for Democratic challenger Beto O'Rourke to be "aided by a bunch of New Yorkers."
"That will not be viewed very positively by the state of Texas," he said.
Advertisement - story continues below
Abbott's sentiments were echoed by similar responses on Twitter.
Totally INCOMPETENT New York City Mayor Eric Adams is
threatening to send a bus load of " New Yorkers" to TEXAS!

To knock on peoples doors & express their anger over illegals being bussed to NYC!

LOL.. I FULLY SUPPORT THAT!

Ring the door bell & DUCK! pic.twitter.com/MHm9q8IO1h

— Bradley Reed – MAGA PATRIOT! (@bradleyreed88) August 10, 2022
The exchange came shortly before three more buses arrived in New York City on Wednesday morning with more illegal immigrants who crossed into Texas via Mexico.
According to Fox News, Texas has now sent thousands of migrants to Washington D.C., New York City, and other areas of the country.
Truth and Accuracy
We are committed to truth and accuracy in all of our journalism. Read our editorial standards.
Comment Down Below
Conversation