News
Trump Claims Jan. 6 Committee Should Investigate Pence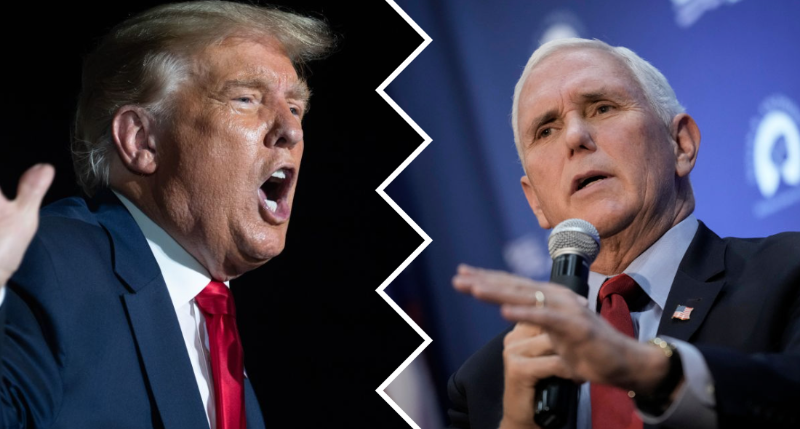 Former President Donald Trump is suggesting that the House committee investigating the Jan. 6 riot at the U.S. Capitol should examine a new subject — his vice president.
In a statement on Tuesday, Trump said, "So pathetic to watch the Unselect Committee of political hacks, liars, and traitors work so feverishly to alter the Electoral College Act so that a Vice President cannot ensure the honest results of the election, when just one year ago they said that 'the Vice President has absolutely no right to ensure the true outcome or results of an election.'"
"In other words, they lied, and the Vice President did have this right or, more pointedly, could have sent the votes back to various legislators for reassessment after so much fraud and irregularities were found. If it were sent back to the legislators, or if Nancy Pelosi, who is in charge of Capitol security, had taken my recommendation and substantially increased security, there would have been no 'January 6' as we know it!" he continued.
Advertisement - story continues below
Finally, Trump said, "Therefore, the Unselect Committee should be investigating why Nancy Pelosi did such a poor job of overseeing security and why Mike Pence did not send back the votes for recertification or approval, in that it has now been shown that he clearly had the right to do so!"
Read the statement below:
A new string of lies in this new Trump statement, but notably he says he wants *Pence* investigated for refusing to stop Biden's election. pic.twitter.com/pzgpvsdEnG

— Kyle Cheney (@kyledcheney) February 1, 2022
Republicans have repeatedly sought to attack House Speaker Nancy Pelosi (D-Calif.) for allegedly refusing to increase security measures ahead of the Jan. 6 riot. However, FactCheck.org notes that the House speaker does not oversee the security of the U.S. Capitol.
Advertisement - story continues below
Trump's comments about former Vice President Mike Pence center around a 19th-century law known as the Electoral Count Act, which dictates how Congress is to count the electoral votes after a presidential election and how to handle disputes. It was written after the contested 1876 election when several states sent multiple sets of electors to Congress.
As ABC News notes, the law, in "long" and "convoluted language," creates some confusion about the role of the vice president in the process of counting the electoral votes. Some in Trump's orbit apparently interpreted the law to mean that Pence could unilaterally declare that votes from six states would not be counted due to "ongoing disputes."
However, ahead of the counting of the votes, Pence said that he did not have the authority to throw out votes.
"It is my considered judgment that my oath to support and defend the Constitution constrains me from claiming unilateral authority to determine which electoral votes should be counted and which should not," he wrote in a letter dated Jan. 6.
After Pence's refused to unilaterally throw out electoral votes, Trump repeatedly suggested his former running mate lacked "courage."
Advertisement - story continues below
Lawmakers in Congress are debating making changes to the law to make future attempts to overturn an election more difficult.
On Sunday, Trump claimed that the effort to amend the law proves Pence actually had the power to unilaterally overturn the election. That led some to point out that by his logic, after the 2024 election, Vice President Kamala Harris would be in the position to throw out a hypothetical Republican victory.
Truth and Accuracy
We are committed to truth and accuracy in all of our journalism. Read our editorial standards.
Comment Down Below
Conversation