News
Trump Praises Manchin for Defending the Filibuster: 'Doing the Right Thing'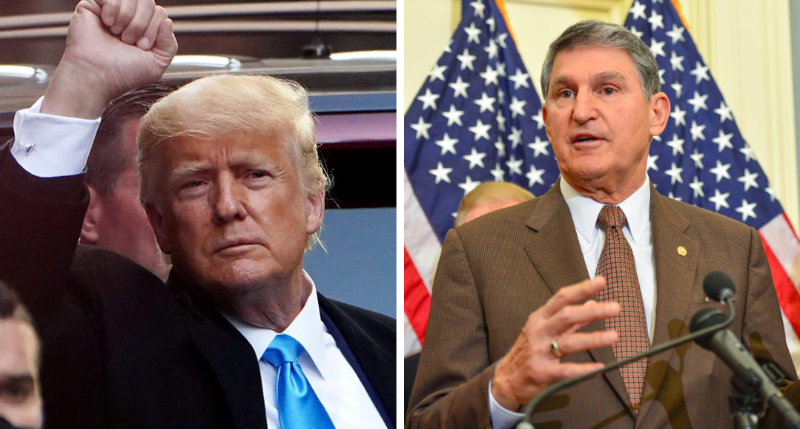 Former President Donald Trump is praising Sen. Joe Manchin (D-W. Va.) for his opposition to eliminating the legislative filibuster.
During Monday's appearance on Fox Business, Trump said, "Well, it's a very important thing. He's doing the right thing, and it's a very important thing."
He continued, "Otherwise, you're going to be packing the court. You're going to be doing all sorts of very, very bad things that were unthinkable, and we're never even brought up during the election. Nobody brought this stuff up." 
Advertisement - story continues below
Trump praises @Sen_JoeManchin for his refusal to do away with the filibuster: "It's a very important thing. He's doing the right thing, and it's a very important thing." pic.twitter.com/O2iy4KGwb2

— Quint Forgey (@QuintForgey) June 7, 2021
According to the Senate's website, the filibuster is a "loosely defined term for action designed to prolong debate and delay or prevent a vote on a bill, resolution, amendment, or other debatable question."
It creates a 60 vote hurdle for legislation to move through the Senate.
As the Senate is evenly divided between Democrats and Republicans, some progressive groups are pressing Senate Majority Leader Chuck Schumer (D-N.Y.) to eliminate the filibuster. That would let Democrats pass legislation with a simple majority, or just 51 votes, with Vice President Kamala Harris casting the tie-breaking vote.
Advertisement - story continues below
In a letter to Schumer, the group Fix Our Senate claimed, "We have moved past hypotheticals and entered a perilous new moment for our democracy."
"In the face of Republicans' inability and unwillingness to defend our democracy, it is clearer than ever that the filibuster needs to be eliminated. We cannot allow the filibuster to stand in the way of progress or imperil the health of our democracy," the letter added.
Democrats could vote to eliminate the filibuster, but they would need all 50 of their members to vote in favor of the move. Harris would need to cast the tie-breaking vote to provide the necessary 51 votes to end the filibuster.
However, Manchin and Sen. Kyrsten Sinema (D-Ariz.) have both said they would not support scrapping the procedural hurdle.
In an op-ed on Sunday, Manchin announced he would vote against a Democratic-crafted election reform bill and doubled down on his opposition to eliminating the filibuster, as IJR reported.
Advertisement - story continues below
He asked, "Do we really want to live in an America where one party can dictate and demand everything and anything it wants, whenever it wants?"
"I will not vote to weaken or eliminate the filibuster. For as long as I have the privilege of being your U.S. senator, I will fight to represent the people of West Virginia, to seek bipartisan compromise no matter how difficult, and to develop the political bonds that end divisions and help unite the country we love," he added.
Trump's praise of Manchin represents an apparent change of his view of the filibuster. In 2017, when Republicans had a slim 52-seat majority, Trump called for the elimination of the filibuster after a bid to repeal the Affordable Care Act fell short of the required votes.
In a tweet, he said, "The very outdated filibuster rule must go. Budget reconciliation is killing R's in Senate. Mitch M, go to 51 Votes NOW and WIN. IT'S TIME!"
Advertisement - story continues below
Trump pressed again for Republicans to abolish the filibuster in 2018.
He also previously blasted Manchin and dubbed him "Senator Joe Munchkin" after the West Virginia senator voted in favor of convicting Trump on the impeachment charges of abuse of power and obstruction of Congress in 2020.
Truth and Accuracy
We are committed to truth and accuracy in all of our journalism. Read our editorial standards.
Conversation