News
Trump Privately Trashing DeSantis: Report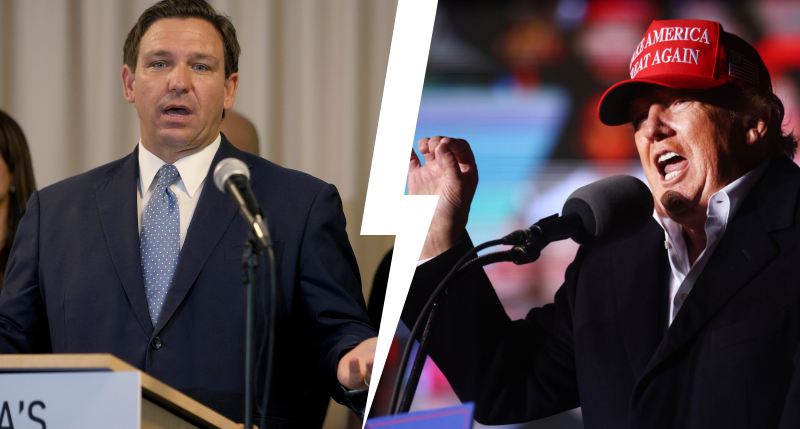 Former President Donald Trump is reportedly criticizing Florida Gov. Ron DeSantis (R) in private.
According to a report from Axios citing sources who recently spoke to the former president, he has trashed Desantis and claimed he has a "dull personality." Additionally, Trump has insisted that the Florida governor does not have a chance of defeating him in the 2024 presidential primary.
"In the context of the 2024 election, he usually gives DeSantis a pop in the nose in the middle of that type of conversation," a source told the outlet, adding, "He says DeSantis has no personal charisma and has a dull personality."
Advertisement - story continues below
Another source told Axios that Trump is frustrated "that Ron DeSantis won't say he won't run [in 2024]. … The others have stated pretty clearly they won't challenge him."
Several polls have shown DeSantis as the front-runner for the Republican nomination if Trump does not run.
While DeSantis has not said he would bow out if Trump runs in 2024, former United Nations Ambassador Nikki Haley said she would not run if Trump did.
Additionally, Sens. Marco Rubio (R-Fla.) and Tim Scott (R-.S.C.) have said they would support the former president if he mounted another bid for the White House.
Advertisement - story continues below
While former Vice President Mike Pence has not ruled out challenging his former running mate either, Axios reports, "[Trump has] told advisers he thinks Pence's future in GOP politics is over after he abided by the Constitution and refused Trump's request to send electors back to the states on Jan. 6, 2021."
Earlier this month, Trump appeared to take a veiled shot at DeSantis for not revealing his vaccination status.
Do you think DeSantis could beat Trump?
During an interview with One America News, Trump said, "I watched a couple of politicians be interviewed, and one of the questions was, 'Did you get the booster?' Because they had the vaccine. And they go, 'Oh oh oh.' They're answering like…in other words, the answer is yes. But they don't want to say it because they're gutless — I gotta say it. Whether you had it or not, say it."
DeSantis refused to say he received a booster shot during a December interview with Fox News.
The Florida governor was asked during a recent interview with the "Ruthless" podcast if there is an "animosity" in his relationship with Trump.
Advertisement - story continues below
"I think this is what the media does," DeSantis responded. "You cannot fall for the bait…you know what they're trying to do, so just don't take it. Just keep on keeping on. We need everybody united for a big red wave in 2022. We've gotta fight the left, and not only fight, but beat the left. And that's what we're doing in Florida."
Truth and Accuracy
We are committed to truth and accuracy in all of our journalism. Read our editorial standards.
Comment Down Below
Conversation