News
Trump Criticizes 'Gutless' Politicians Who Do Not Share Their Vaccination Status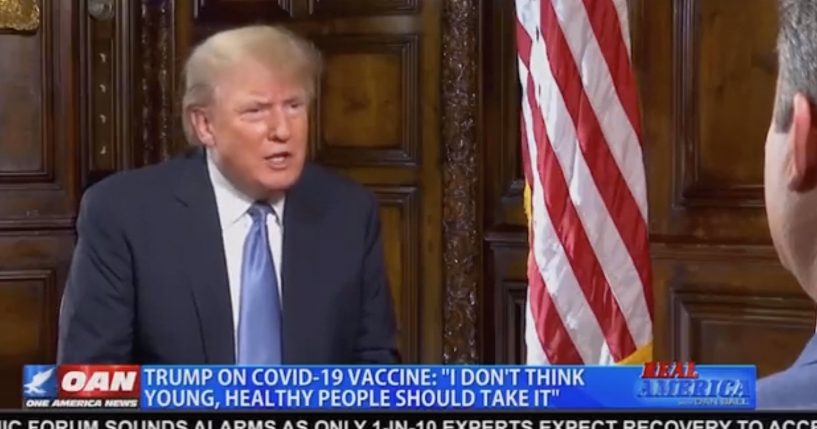 Former President Donald Trump believes politicians should reveal their COVID-19 vaccination status, and says that those who do not are "gutless."
During an interview on One America News that aired on Tuesday, Trump noted that he is fully vaccinated and received the booster shot.
He continued, "I watched a couple of politicians be interviewed, and one of the questions was, 'Did you get the booster?' Because they had the vaccine. And they go, 'Oh oh oh.' They're answering like…in other words, the answer is yes. But they don't want to say it because they're gutless — I gotta say it. Whether you had it or not, say it."
Advertisement - story continues below
"But the fact is that I think the vaccine has saved tens of millions of people throughout the world. I've had absolutely no side effects. I've had it like other people have had it. Nothing special," he added.
Watch the video below:
Trump: "I've had the booster. I watched a couple of politicians be interviewed…but they don't want to say it, because they're gutless. You gotta say it, whether you had it or not, say it."

FL Gov. DeSantis recently sidestepped the question in an intvw pic.twitter.com/ljV9FdGvFz

— Vera Bergengruen (@VeraMBergen) January 12, 2022
Florida Gov. Ron DeSantis (R) was asked last month if he received a booster shot during an appearance on Fox News.
Advertisement - story continues below
"So, uh, uh, I've done, whatever I did, the normal shot," DeSantis responded.
His spokesperson, Christina Pushaw, was asked by Mediaite to clarify if the governor had received a booster shot. She responded, "I am not able to comment on the governor's personal medical decisions."
Do you think politicians should reveal their vaccination status?
Last year, Rep. Marjorie Taylor Greene (R-Ga.) repeatedly refused to disclose her vaccination status. However, in November, Greene revealed she was not vaccinated.
Trump was booed last month after he shared that he got a booster shot, as IJR reported.
And during an interview with The Daily Wire's Candance Owens, he pushed back when she questioned the effectiveness of the vaccines.
Advertisement - story continues below
Trump said, "Well, no, the vaccines work, but people aren't taking it. The ones who get very sick and go to the hospital are the ones who don't take the vaccine. But it's still their choice, and if you take the vaccine, you're protected."
"Look, the results of the vaccine are very good. And if you do get it, it's a very minor form. People aren't dying when they take the vaccine," he added.
Owens later claimed that Trump's support of the vaccines is due to his age as she claimed, "Everything that [Trump's generation] read in a newspaper, that was pitched to them, that they believed that that was a reality."
"And one of those things was, you know, this push for vaccines and believing that people were going to die without vaccines. And so, I believe that his support of the vaccine is genuine, and it's not based on any corruption at all," she added.
Truth and Accuracy
We are committed to truth and accuracy in all of our journalism. Read our editorial standards.
Comment Down Below
Conversation