News
Trump Refers to Himself As 'Former President' in Lawsuit Despite Refusal to Concede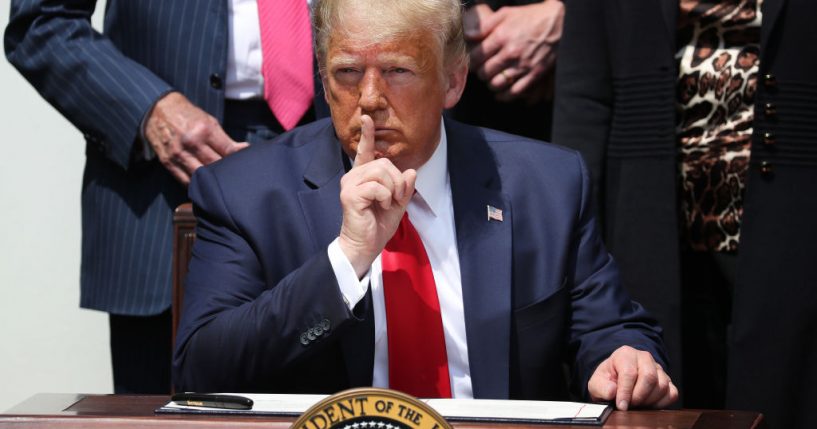 Former President Donald Trump has refused to concede the 2020 presidential election. However, in a lawsuit filed this week, he acknowledges himself as a "former president."
The House select committee is investigating the U.S. Capitol riot on January 6, and Trump filed a lawsuit in federal court on Monday against Congress and the National Archives in an effort to stop the release of White House files.
On page 11, the lawsuit reads, "Plaintiff Donald J. Trump is the 45th President of the United States. President Trump brings this suit solely in his official capacity as a former President under the PRA, associated regulations, the Executive Order, the Declaratory Judgment Act, and the Constitution of the United States."
Advertisement - story continues below
Trump has repeatedly claimed widespread voter fraud in the election cost him a victory.
He said in Iowa on Oct. 9, "I never conceded. No reason to concede."
Former Attorney General William Barr previously declared that the U.S. Department of Justice found no evidence of widespread voter fraud "on a scale that could have effected a different outcome in the election."
More than 60 lawsuits filed by Trump and his allies challenging the election have failed in state and federal courts.
Advertisement - story continues below
A draft review of Arizona's election results, conducted by the company Cyber Ninjas, found 99 additional votes for President Joe Biden and 261 fewer votes for Trump in Maricopa County. After the reporting on the review in late September, Trump insisted it was "a big win for democracy and a big win for us."
On page 11, paragraph 20 of the lawsuit he filed in federal court today against the January 6th Committee and the National Archives, Donald Trump acknowledges that he's "a former President." https://t.co/Ujb35sRpjm pic.twitter.com/ebEfArY0VT

— southpaw (@nycsouthpaw) October 18, 2021
New York Times reporter Maggie Haberman touched on the "former president" phrase in the lawsuit, saying on CNN, "I don't know how serious this suit is. It is notable that the suit actually refers to him as 'former President' Trump, which is something they've stayed away from. But Trump is going to do everything he can to try to drag this out as long as possible."
In the lawsuit, filed by a lawyer for Trump, it argues "the materials must remain secret as a matter of executive privilege," per The New York Times.
The publication also reports that records being sought by House investigators include "calendars, schedules and movement logs about virtual or in-person meetings or events Mr. Trump attended, including who was present," "any documents and communications between the White House and some of Mr. Trump's allies most involved in trying to undermine the election," among other records.
Truth and Accuracy
We are committed to truth and accuracy in all of our journalism. Read our editorial standards.
Comment Down Below
Conversation