News
Trump's Super PAC Drops $500,000 in Georgia's Gubernatorial Primary to Defeat Brian Kemp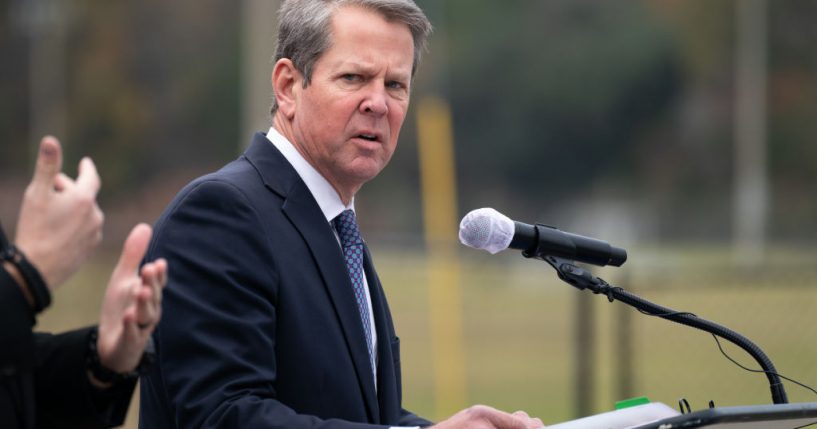 Former President Donald Trump's Save America PAC has given $500,000 to Get Georgia Right — a Super PAC focused on defeating Georgia Gov. Brian Kemp (R) in the primary election.
Politico first reported the move and noted it is Trump's "first major financial investment in a midterm race and an indication that he's willing to dig into his massive war chest to defeat his foes."
"Those close to Trump's political apparatus describe it as an initial cash infusion ahead of the May 24 primary, which pits Kemp against Trump-endorsed former Sen. David Perdue," Politico added.
Advertisement - story continues below
A spokesperson for Get Georgia Right said, "President Trump has demonstrated a strong interest in making sure the truth emerges about what happened in Georgia."
"He has also stated that the best way to solve this problem is electing people who acknowledge it and are committed to improving election integrity," the spokesperson added.
Last year, former Sen. David Perdue announced he would launch a primary challenge against Kemp, as IJR reported.
Cody Hall, a senior campaign adviser to Kemp, reacted to news of Trump's investment in a statement, "David Perdue is going to need a lot more than $500,000 to distract from his unhinged rant attacking the Georgia State Patrol."
Advertisement - story continues below
According to Axios, Hall referred to "a Tuesday press conference in which Perdue said Georgia 'needs to get our state patrol back to the elite level.'"
Trump has lashed out at Kemp for refusing to overturn the 2020 election results in the state. He also suggested that Stacey Abrams (D) would be a better governor than Kemp.
"When Stacey Abrams says I'm not going to concede, that's OK," he said in September.
Trump added, "Of course, having her, I think, might be better than having your existing governor, if you want to know the truth. Might very well be better."
In Dec. 2021,  Abrams shared that she will mount another bid for governor after her 2018 loss to Kemp.
Advertisement - story continues below
Following Abrams' announcement, Trump said in a statement, "Stacey 'The Hoax' Abrams has just announced that she's running for Governor of Georgia. I beat her single-handedly, without much of a candidate, in 2018. I'll beat her again."
He claimed it would be "hard" to beat Abrams if Kemp is the Republican gubernatorial nominee because of "what he did with respect to Election Integrity and two horribly run elections, for President and then two Senate seats."
"But some good Republican will run, and some good Republican will get my endorsement, and some good Republican will WIN!" he added.
The former president later endorsed Perdue as he claimed Kemp has been a "very weak governor" and "can't win because the MAGA base—which is enormous—will never vote for him."
Advertisement - story continues below
"David Perdue will eliminate the Income Tax, secure the Elections, defend the Second Amendment, support our great Farmers, get crime in Atlanta and other places under control, take care of our great Vets, and put parents back in charge of the schools," he added.
Truth and Accuracy
We are committed to truth and accuracy in all of our journalism. Read our editorial standards.
Comment Down Below
Conversation