News
Trump Suggests Stacey Abrams 'Might Be Better' Than Kemp As Georgia Governor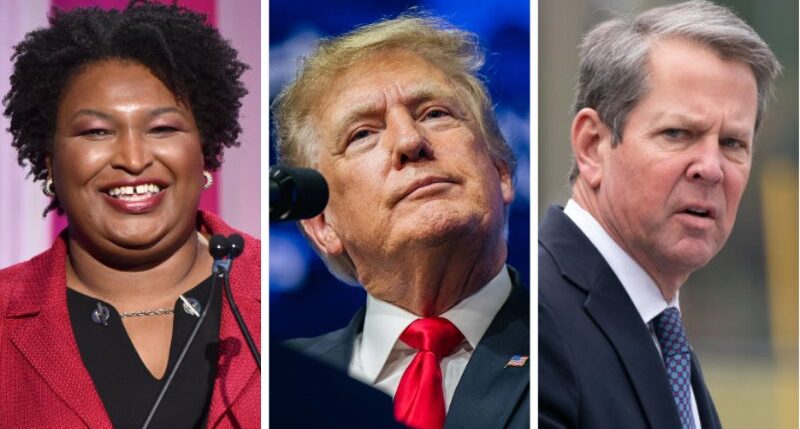 Former President Donald Trump believes Stacey Abrams (D) "might be better" as governor of Georgia than Georgia Gov. Brian Kemp (R).
Trump mockingly said during Saturday's rally in Perry, Georgia, "When Stacey Abrams says I'm not going to concede, that's OK. Of course, having her, I think, might be better than having your existing governor, if you want to know the truth. Might very well be better."
Abrams refused to concede in Georgia's 2018 gubernatorial election after her defeat to Kemp. She, however, did accept defeat.
Advertisement - story continues below
Trump later added, "I never conceded because I saw what was happening, and I can't do it. I can't do it."
The former president also called Kemp, who is up for reelection in 2022, a "disaster" during the rally.
Kemp found himself under attack by Trump over the 2020 presidential election. However, the Georgia governor indicated in March he would "absolutely" support Trump in 2024 if he ran for president again.
Watch Trump's comments below:
Advertisement - story continues below
"Of course, having her I think might be better than having your existing governor, if you want to know the truth" — Trump on the relative merits of Stacey Abrams and Brian Kemp pic.twitter.com/KrppCdCHAJ

— Aaron Rupar (@atrupar) September 26, 2021
Georgia Secretary of State Brad Raffensperger (R) penned an op-ed in the Wall Street Journal in December of 2020, titled, "Trump Runs the Stacey Abrams Playbook," taking aim at Trump for not conceding to President Joe Biden.
Raffensperger wrote, "Establishing a playbook that President Trump is following to the letter now, Ms. Abrams refused to concede, announced that she would launch major litigation against Georgia's election system, and began collecting hundreds of millions of dollars from donors convinced the election had been stolen from her."
"Ms. Abrams was and is encouraged to continue attacking the integrity of Georgia's election even though the margin of her loss was four times as wide as Mr. Trump's," he added.
Advertisement - story continues below
Abrams pushed back, previously telling CNN, "First and foremost, he's never listened to what I said. I said that the election was stolen from Georgia voters because, under the previous secretary of state, Brian Kemp, millions of voters were — 1.4 million voters were purged from the rolls, thousands of voters were denied the right to vote because of [voter registration processes]."
"There is absolutely nothing commensurate between what I have done and what Donald Trump is trying to do," she also said.
Abrams continued, "My mission has been very clear since I was 17, and that is expanding access to the right to vote for those who are entitled to vote in our country and especially in the state of Georgia. What Donald Trump is arguing is that he only wants to count the votes that he likes. He wants to restrict access to the right to vote and restrict who gets to be heard in our country. That is not at all what I'm pushing for."
Prior to Trump's rally in Georgia over the weekend, Raffensperger told The Washington Examiner, "What bothers me, and it really should bother everyone, after 10 months since the last ballots were counted, we're still dealing with this misinformation and disinformation surrounding the elections."
Advertisement - story continues below
"He's going to come, and he's going to say what he's going to say, but he knows in his heart that he lost the election," he continued, adding, "[Trump's] continued to promote the big lie, and then he's also fundraising off this issue just like Stacey Abrams has."
Truth and Accuracy
We are committed to truth and accuracy in all of our journalism. Read our editorial standards.
Comment Down Below
Conversation