News
US Will Pursue Prisoner Swap Discussion With Russia After Griner 9-Year Sentence: Report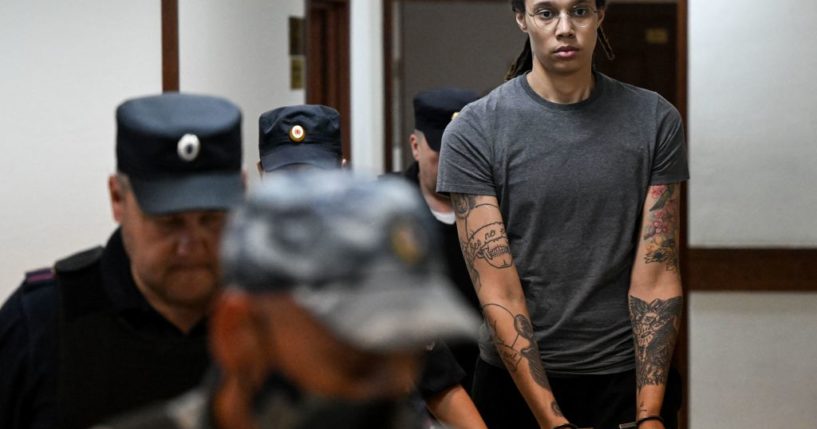 After WNBA star Brittney Griner was convicted on Thursday by Russia on drug charges, Russia says it is "ready" to discuss with the U.S. a prisoner swap.
Foreign Minister Sergey Lavrov said on Friday that Russia was "ready to discuss this topic." However, "only within the framework of a diplomatic channel that he said had been previously agreed upon by President Joe Biden and Russian President Vladimir Putin," as NBC News reports.
He said, "There is a special channel that has been agreed upon by the presidents, and no matter what anyone says publicly, this channel remains relevant."
Advertisement - story continues below
The U.S. was also warned by Lavrov against making any "loud announcements" regarding the issue.
"If the Americans decide to resort to public diplomacy again and make loud announcements … this is their business, their problem."
#UPDATE Russia is ready to discuss a prisoner swap with US at the presidential level, foreign minister Sergei Lavrov says, a day after convicting Brittney Griner.

"If the Americans again decide to engage in public diplomacy… that's their business and their problem" pic.twitter.com/HJShzdJdzB

— AFP News Agency (@AFP) August 5, 2022
Advertisement - story continues below
U.S. Secretary of State Antony Blinken said on Friday that Lavrov's comments appear to indicate Russia is "prepared to engage through channels we've established." He added, "We'll be pursuing that," according to NBC News.
#UPDATE The United States will "pursue" Russia's latest offer to discuss at the presidential level a prisoner swap involving detained basketball star Brittney #Griner, Secretary of State Antony Blinken said on Friday https://t.co/3Y0jQ9lN8R pic.twitter.com/yQsrXyBntp

— AFP News Agency (@AFP) August 5, 2022
Will the Biden administration be able to get Griner home?
Pentagon spokesman John Kirby told reporters on Thursday that the U.S. wants Russia "to take the offer that's on the table" and called it a "good" and "fair one."
The U.S. previously offered to exchange convicted Russian arms dealer Viktor Bout for Griner and former U.S. Marine Paul Whelan.
Advertisement - story continues below
Per a CNN report on August 1, citing multiple sources, Russia requested to add Vadim Krasikov, who was convicted of murder in Germany in 2021, to the exchange.
According to CNN, "The request was seen as problematic for several reasons, the sources told CNN, among them that Krasikov remains in German custody. As such, and because the request was not communicated formally but rather through the FSB backchannel, the US government did not view it as a legitimate counter to the US' offer."
Reporter asks John Kirby about negotiating with Russia to bring Brittney Griner back home. pic.twitter.com/1MkH1QHeod

— The Post Millennial (@TPostMillennial) August 4, 2022
Griner, 31, was sentenced to 9 years in prison by Russia on Thursday, as IJR reported on. Last month, she pleaded guilty to a drug charge. She was convicted of drug possession and drug smuggling.
Advertisement - story continues below
She received a fine of 1 million rubles, or about $16,400. The basketball star can appeal the verdict.
Griner was detained in Russia in March after the Russian Federal Customs Service said it "discovered cartridges containing hashish oil in her luggage at the Sheremetyevo airport," NBC News reported.
The basketball star is a two-time Olympic gold medalist and has played in Russia for seven years during the winter.
Ahead of her verdict, Griner said in an apology, "I want to apologize to my teammates, my club, my fans and the city of (Yekaterinburg) for my mistake that I made and the embarrassment that I brought on them."
Advertisement - story continues below
She added, "I want to also apologize to my parents, my siblings, the Phoenix Mercury organization back at home, the amazing women of the WNBA, and my amazing spouse back at home."
President Joe Biden said in a statement after the verdict, "Today, American citizen Brittney Griner received a prison sentence that is one more reminder of what the world already knew: Russia is wrongfully detaining Brittney. It's unacceptable, and I call on Russia to release her immediately so she can be with her wife, loved ones, friends, and teammates."
He concluded, "My administration will continue to work tirelessly and pursue every possible avenue to bring Brittney and Paul Whelan home safely as soon as possible."
Truth and Accuracy
We are committed to truth and accuracy in all of our journalism. Read our editorial standards.
Comment Down Below
Conversation