Commentary
1 Week Until the Midterms: 8 Races to Keep an Eye On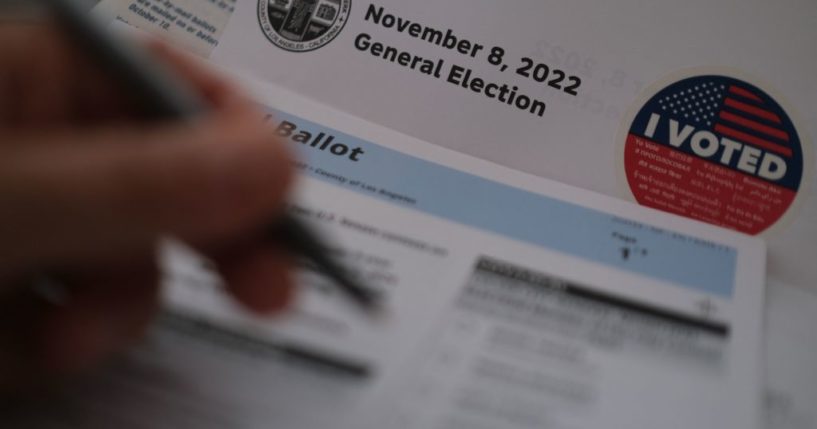 Exclusive
The 2022 midterm elections are just one week away, and after a few twists and turns throughout the year, polls in several key races have tightened significantly — paving the way for an election night where a bunch of races are on a razor's edge.
Here are eight races to keep an eye on:
Senate:
Advertisement - story continues below
Several election forecasters predict Republicans will take the House in November. However, their margins for a Republican majority vary.
But the race for the Senate is shaping up to be much more competitive.
Pennsylvania:
This is a seat Republicans currently hold. But the race to fill retiring Sen. Pat Toomey's (R-Pa.) seat has given Republicans more than a little heartburn. Former President Donald Trump endorsed celebrity surgeon Mehmet Oz in the primary — despite concerns even among the former president's backers about how conservative he really is.
Advertisement - story continues below
If Republicans fail to hold the seat, it will complicate their hopes of winning the Senate as they would need to flip at least two Senate seats instead of just one.
John Fetterman, the state's lieutenant governor, and Democratic Senate nominee, once held a double-digit lead over Oz despite a stroke in May that sidelined him from the campaign trail for three months. But as questions about his health emerged, polls have shown the race tightening significantly. FiveThirtyEight's average shows he leads Oz by just one point, as of Monday.
Nevada:
For much of the year, polls have shown a razor-thin race for Nevada's Senate seat. And FiveThirtyEight's tracker shows it is a dead heat between Sen. Catherine Cortez Masto (D) and Adam Laxalt (R) heading into the last week before the election — providing a potential pick-up opportunity for Republicans.
The Nevada Senate and gubernatorial race — which polls also show is tight — have sparked Democratic concerns about support among the Hispanic community.
Advertisement - story continues below
If Republicans can flip this seat, it will, at the very least, give them somewhat of a buffer if they lose Pennsylvania.
Arizona:
Until Trump's rise, Arizona seemed like a fairly solid red state. It had two Republican senators, and a Republican governor, and had not voted for a Democratic presidential candidate in decades.
But in 2020, voters backed Biden over Trump, and it currently has two Democratic senators. It seemed like a state that could be a good pick-up opportunity. But earlier in the year, Sen. Mark Kelly (D) held an average of a 10-point lead over Republican Senate nominee Blake Masters.
Advertisement - story continues below
Still, it appears to be tightening, and as of Monday, FiveThirtyEight's average shows Kelly's lead has shrunk to just over three points.
Iowa:
In what looks like it could be a fairly good election year for Republicans, a Des Moines Register/Mediacom Iowa Poll — which NBC News notes has been viewed as the gold standard for the state — created some buzz last month.
It found Sen. Chuck Grassley (R-Iowa) leading Mike Franken (D) by just three points. Additionally, for the first time in the poll's history, it found the 89-year-old senator's approval rating lower than his disapproval rating.
Advertisement - story continues below
Grassley is running for his eighth term as a senator.
That poll could be an outlier, as FiveThirtyEight's average shows Grassley with a 7.2-point lead over Franken, as of Oct. 31. But Iowa is a state Republicans really cannot afford to lose if they want to control the Senate, and a surprise on election night would likely send a shiver down Republicans' spines.
Governor:
There are a couple of gubernatorial races across the country that could have national ramifications and others that appear to be much more competitive than many would have expected.
Advertisement - story continues below
Florida:
In 2018, Florida Gov. Ron DeSantis (R) eeked out a narrow victory over Democrat Andrew Gillum with a margin of roughly 30,000 votes. Since then, he has become a national conservative star for his handling of the COVID-19 pandemic and his willingness to dive right into culture war issues.
And he has been seen as a potential 2024 presidential contender.
RealClearPolitics average of polls shows Desantis leading former Rep. Charlie Crist (D) by double digits. You can bet if DeSantis wins, his margin of victory will be analyzed to try to determine how much of an influence his policies and brand of conservativism helped or potentially hurt him.
Advertisement - story continues below
If he wins by as large of a margin as the polls show despite the outrage surrounding his policies, his stock as a potential presidential contender would undoubtedly get a major boost.
Arizona:
Arizona Republican gubernatorial nominee Kari Lake seemed like precisely the wrong candidate for the state: Someone unashamed to be seen as close to Trump, and unafraid to claim the 2020 presidential election was stolen.
The state elected two Democratic senators for the first time since 1952 on the 45th president's watch and voted for a Democratic president for the first time since 1996
Advertisement - story continues below
And yet, despite being labeled "dangerous" and a "Donald Trump in heels," Lake has turned out to be a charismatic politician capable of delivering a polished message and appears to be pulling ahead in the race.
If she pulls off a win, you can expect there to be a lot of dissecting of the outcomes of the gubernatorial and Senate races: Were there a lot of Lake/Kelly voters? Or, did Lake's popularity help Masters across the finish line?
Oregon:
Voters in this deep blue state appear poised to potentially elect a Republican governor for the first time since the 1980s.
Advertisement - story continues below
FiveThirtyEight notes the state has set the record for the longest period of time without having a Republican governor — 40 years.
This year, there is a three-way race in the open gubernatorial election between Democrat Tina Kotek, Republican Christine Drazan, and independent and former Democrat Betty Johnson.
As of Oct. 26, FiveThirtyEight's polling average shows a dead heat between Kotek and Drazan, with Johnson receiving under 14% support.
New York:
Advertisement - story continues below
New York is another heavily Democratic state where the race for governor appears to be unusually close.
New York Gov. Kathy Hochul (D) is running for her first election as governor after serving just over a year in office. She took over in Aug. 2021 after then-New York Gov. Andrew Cuomo (D) announced his resignation in the wake of sexual harassment allegations.
Over the summer, Democrats spent a lot of money on messaging about abortion. And Hochul initially held a nearly 20-point lead over her Republican challenger, Rep. Lee Zeldin (N.Y.). However as the election season dragged on, crime surpassed abortion as a top issue for voters. FiveThirtyEight's polling average shows Hochul with just under a seven-point lead.
And on Friday, she told reporters she views herself as an "underdog" in the race, which has further added to questions about whether the state could elect a Republican governor for the first time in 20 years.
Advertisement - story continues below
There is still a week left, and while it seems like the momentum is favoring Republicans, a lot of these races for Senate and governor are incredibly close, so it would not be surprising to see a few Democratic surprises.
Truth and Accuracy
We are committed to truth and accuracy in all of our journalism. Read our editorial standards.
Comment Down Below
Conversation