2020 Democrats Look to Super Tuesday — What Voters Can Expect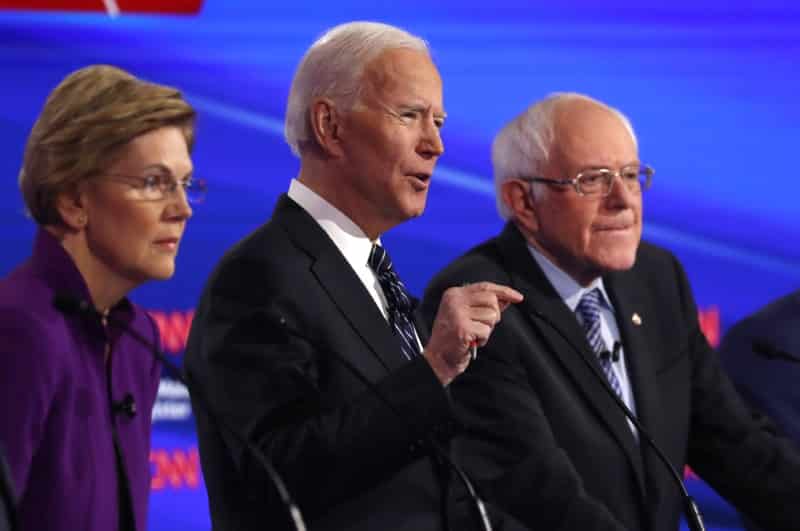 Up to now only the residents of four early states have gotten the chance to cast their ballot in the Democratic primary, but that all changes Tuesday. 
Voters across fourteen states will be headed to the polls to cast their ballot for who they think should become the Democratic Party's nominee in the 2020 presidential election. Super Tuesday will occur on March 3, where about one-third of the delegates — 1,357 out of 3,979 total delegates — will be allocated. As The Washington Post puts it, "you need 1,991 delegates to win the nomination." 
The results from Tuesday's votes aren't expected to be all known that day, as states out West like California rely on mail-in ballots, which takes time to count. 
So far, former South Bend, Ind., Mayor Pete Buttigieg — who has since dropped his presidential bid — gained victory in Iowa, Sen. Bernie Sanders (I-Vt.) came out on top in New Hampshire and Nevada, and former Vice President Joe Biden edged out a win in South Carolina.
Super Tuesday will be the first time former New York City Mayor Michael Bloomberg appears on the ballot.
What states will be casting their ballots on Super Tuesday?
Virginia
Sanders is currently the frontrunner in Virginia with a 9-point leadover Biden ahead of Super Tuesday, according to a RealClearPolitics aggregation of polls. This follows after he gained some support in the state from the polls conducted previously. Bloomberg and Sen. Elizabeth Warren (D-Mass.) are in the double digits.
The state has 99 delegates at stake.
North Carolina
Sanders and Biden are nearly tied in North Carolina, according to an average of the latest polls conducted before Super Tuesday, with the former vice president the frontrunner in the state.
The state has 110 delegates at stake.
Massachusetts
Biden isn't faring as well in Massachusetts, as he is in fourth place in the state prior to Super Tuesday. Sanders, followed by Warren, is drawing the most support, with Bloomberg in third.
There are 91 delegates at stake in the state.
Vermont
With the latest poll conducted from Feb. 4 to Feb. 10, Sanders held a large lead in his home state against the other 2020 Democratic contenders. Buttigieg was in second place, but he has since dropped out of the race.
The state has 16 delegates at stake.
Maine
Since mid-February, Sanders' support in Maine has continued to climb, widening his lead in the state as of Monday. Biden and Warren have about half of the support as Sanders.
The state has 24 delegates at stake.
Tennessee
In Tennessee, Biden is expected to garner the most support among the 2020 Democratic hopefuls, with Sanders expected to be in second, according to FiveThirtyEight's state forecast. According to the forecast, the Vermont senator has a 1-to-4 chance of winning.
The state has 64 delegates at stake.
Alabama
The former vice president is expected to be victorious in Alabama, according to FiveThirtyEight's state forecast. Sanders follows behind with a 1-to-10 chance of winnings, the forecast shows.
There are 52 delegates at stake.
Arkansas
With the latest poll conducted in Arkansas between Feb. 6 to Feb. 7, Bloomberg took a slim lead ahead of Biden, with Sanders closely following.
The state has 31 delegates at stake.
Oklahoma
Biden and Bloomberg were nearly tied in Oklahoma, according to a poll conducted between Feb. 17 to Feb 21.
There are 37 delegates at stake in Oklahoma.
Texas
Sanders holds a lead in South Carolina ahead of Tuesday's votes. Biden was leading in the state up until Feb. 19.
Texas has a whopping 228 delegates at stake.
Minnesota
A poll conducted Feb. 17 to Feb. 20 showed Sen. Amy Klobuchar (D-Minn.) in the lead in her home state. However, she has since dropped her presidential bid. Sanders was in second in the poll.
The state has 75 delegates at stake.
Colorado
As of polls conducting prior to South Carolina's primary, Sanders was in the lead in Colorado.
Colorado has 67 delegates at stake.
Utah
Sanders took a lead in Utah, as of polls conducted last month, followed by Bloomberg.
The state has 29 delegates at stake.
California
Sanders holds the lead over the former vice president in California prior to Super Tuesday. With a poll conducted through Monday, Sanders has a roughly 17-point lead. 
The state has the largest sum of delegates Tuesday, with 415 at stake in California.
Super Tuesday comes at a time where Sanders is the front-runner candidate nationally for the party's nomination with a roughly 9-point lead, as Biden follows behind — according to polls taken up until Feb. 29. Bloomberg takes the third spot thus far, while Warren is in fourth.
Whoever comes out on top Tuesday could be the Democratic nominee and face off against President Donald Trump in the general election on Nov. 3.