News
2021 Recap: 5 Major Trump Policies the Biden Admin Reversed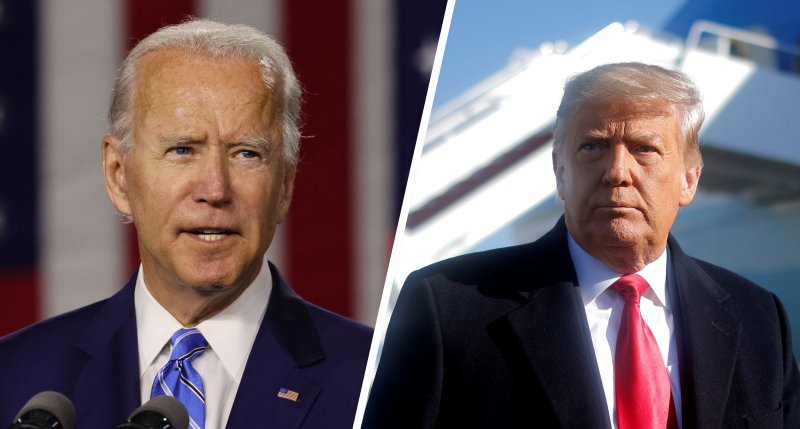 In his first year in office, President Joe Biden and top Congressional Democrats successfully navigated narrow majorities in both chambers to pass a $1.9 trillion COVID-19 relief package and a roughly $1 trillion bipartisan infrastructure bill.
Biden outpaced the last three presidents in his first 100 days for the number of executive actions taken in that time frame. But not every executive action was taken to implement new policies. He also acted quickly to undo several of former President Donald Trump's policies.
Here's a look at five major Trump-era policies Biden reversed:
Advertisement - story continues below
1: Border Wall
On his first day in office, Biden revoked Trump's national emergency declaration that would have diverted $10 billion from the Defense Department to the construction of the border wall.
He also ordered a "pause" on the construction of the wall.
"It shall be the policy of my Administration that no more American taxpayer dollars be diverted to construct a border wall," his proclamation reads. "I am also directing a careful review of all resources appropriated or redirected to construct a southern border wall."
Advertisement - story continues below
2: Keystone XL Pipeline
Biden also revoked the permit for the Keystone XL oil pipeline on his first day.
Do you think these policies should have been reversed?
At the time, Reuters reported, "The move represents another set-back for the beleaguered Canadian oil industry, in particular its energy heartland Alberta, kills thousands of jobs, and marks an early bump in Biden's relationship with Canada, a key trading partner."
The pipeline was expected to carry 83,000 barrels per day of Alberta oil sands crude to Nebraska.
Canadian Prime Minister Justin Trudeau expressed appreciation for Biden's "commitment to fight climate change." However, he said, "We are disappointed but acknowledge the President's decision to fulfill his election campaign promise on Keystone XL."
Advertisement - story continues below
The decision to revoke the permit came roughly a year after the Trump administration approved the pipeline.
3: Ban on Transgender Americans Joining the Military
On Jan. 25, Biden signed an executive order to end Trump's ban on transgender Americans joining the military.
Speaking in the Oval Office, he said, "This is reinstating a position that the previous commanders and, as well as the secretaries, have supported. And what I'm doing is enabling all qualified Americans to serve their country in uniform."
Advertisement - story continues below
In 2017, Trump announced the ban on Twitter, claiming that the military cannot afford the "tremendous medical costs and disruption" of transgender service members.
The policy faced a legal challenge that wound its way to the Supreme Court. However, in 2019, the court ruled that the policy could go into effect until lower courts heard arguments.
4: "Mexico City Policy"
On Jan. 28, Biden issued a presidential proclamation to rescind the "Mexico City Policy," which banned U.S. funding for foreign nonprofit organizations that promote or perform abortions.
Advertisement - story continues below
Trump reinstated the policy on Jan. 23, 2017 — one day after the 44th anniversary of the Roe v. Wade decision. Every Republican president since Ronald Reagan has implemented the policy, and every Democratic president has rescinded it.
In rescinding the policy, Biden said he was reversing "my predecessor's attack on women's health access."
5: Review of Federal Funding Going to 'Anarchist Jurisdictions'
As Black Lives Matter protests and riots broke out in 2020, Trump ordered a review of federal funds going to Seattle, Washington; Portland, Oregon; Washington, D.C.; and New York City, which he claimed "permit anarchy, violence, and destruction."
Advertisement - story continues below
"My administration will not allow federal tax dollars to fund cities that allow themselves to deteriorate into lawless zones," he said in a memo.
In February, Biden revoked that executive order.
While Biden succeeded in reversing several Trump policies, he has faced setbacks in his efforts to reverse others such as the "Remain in Mexico" policy which requires asylum seekers to wait in Mexico until their cases can be adjudicated.
Biden tried to rescind the policy, but a federal judge in Texas ordered that it must be reinstated.
Advertisement - story continues below
Additionally, he has kept several of Trump's tariffs on Chinese imports and Canadian lumber imports in place.
Truth and Accuracy
We are committed to truth and accuracy in all of our journalism. Read our editorial standards.
Comment Down Below
Conversation