Commentary
Dem Voters Really Do Not Want Biden to Run Again in 2024, CNN Poll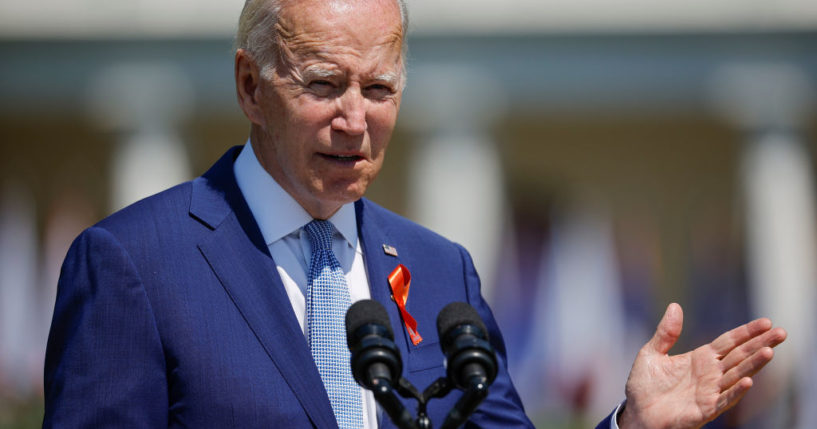 President Joe Biden told reporters earlier this month to "read the polls" when he insisted that Democrats want him to run again.
At the time, he was twisting some data. But since then, a new poll has come out that only reinforces the fact that members of his party, or who lean toward the Democrats, really don't want him to run again.
A new CNN poll found that 75% of Democrats and Democrat-leaning voters said they do not want Biden to run again.
Advertisement - story continues below
Among those under 45, 82% said they want someone other than Biden to be the party's nominee. And among older voters, he does not get that much of a benefit, as 69% said they want another candidate as well.
And 73% of respondents without a college degree said they want someone else, while 78% of college graduates said the same.
The poll was conducted July 22-24, and the margin of error has a plus or minus 6.7 points.
.@CNN Poll:

Registered Democrats & Dem-Leaning Independents

Who do you think the Democratic Party should nominate as the party's candidate for president in 2024?

Under 45
Joe Biden 18%
A different candidate 82%

Age 45+
Joe Biden 31%
A different candidate 69%

July 22-24, 2022 pic.twitter.com/OyRAVS4MXP

— Aron Goldman (@ArgoJournal) July 27, 2022
Advertisement - story continues below
It would be easier to dismiss these polls if they were from an outlet such as Breitbart or Trafalgar.
But the poll earlier this month was a New York Times/Siena poll that showed Democrats don't want him to run again. Now there is the CNN poll. These aren't conservative outlets.
Do you think Biden will run again?
These results should not be too surprising, given that in the 2020 Democratic primary, Biden came in fourth place in the Iowa caucuses and came in fifth place in New Hampshire — not even cracking double digits — after he fled the state.
Once his campaign showed that it was not entirely dead after the South Carolina primary, the Democrats rallied around him due to fear that Sen. Bernie Sanders (I-Vt.) was going to steamroll through Super Tuesday, clinch the nomination, and with his far-left progressive policies scare off voters and hand the election to then-President Donald Trump.
Biden clearly wasn't the Democrats' first choice, but they gave him a chance and rallied around him to defeat Trump.
Advertisement - story continues below
However, once in office, he disappointed them by failing to pass their long progressive wishlist in the Build Back Better Act, failing to convince the Senate to change its rules to pass a sweeping voting rights bill, seeming to be unprepared for the overturning of Roe v. Wade despite a leaked draft opinion of the ruling, not showing enough energy and anger in response to gun violence, and traveling to Saudi Arabia to attempt to repair relations after saying it should be a "pariah."
And on top of all that, other Democrats think he's just too old as he would be 82 at the beginning of his second term, and already, at 79, there are concerns about his age.
(Here at Independent Journal Review, we've been documenting the Biden administration's numerous failures, and where that has led him in the eyes of the American people. We'll continue documenting. You can help by subscribing.)
Even the prospect that Trump will run in 2024 might not be enough to rescue Biden.
Advertisement - story continues below
In fact, a Trump run amid concerns about Biden's age might accelerate efforts to convince him not to run again.
Perhaps over the next year and a half or so, circumstances will change, and Americans will start to feel better and decide they like Biden again.
But more likely than not, their views of the commander-in-chief will only become cemented, and he will have to choose between gracefully taking his hat out of the ring, or face the potential of being massively embarrassed by losing his primary battle in 2024.
Truth and Accuracy
We are committed to truth and accuracy in all of our journalism. Read our editorial standards.
Comment Down Below
Conversation