Commentary
ABC News Poll Finds Awful News for Biden in a Hypothetical 2024 Matchup With the 'MAGA King'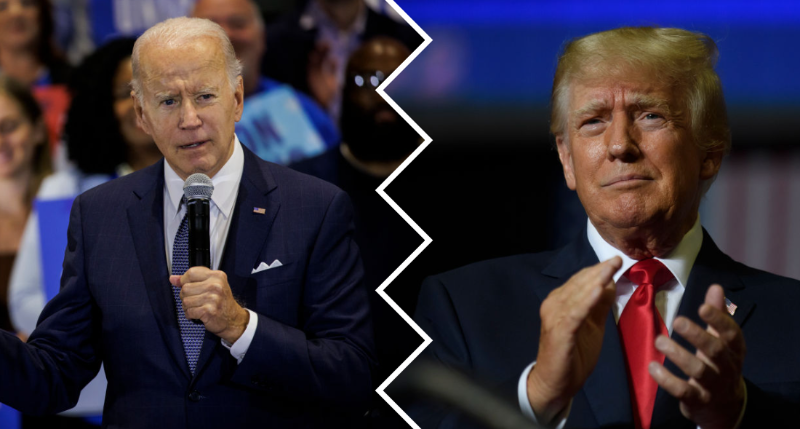 President Joe Biden is hammering the message that so-called "MAGA Republicans" pose an existential threat to the country.
And Democrats seem to believe if they focus on threats to democracy and the "extreme" parts of the Republican Party, it will help them electorally.
By Biden's telling, "MAGA Republicans represent an extremism that threatens the very foundations of our republic."
Advertisement - story continues below
But according to an ABC News/Washington Post poll released on Sunday, voters do not seem too concerned about the man he deemed the "MAGA king" — former President Donald Trump.
The survey found Biden leads Trump 48% to 46% — essentially tied.
However, the numbers flipped to Trump's advantage when the survey measured registered voters.
Those results come even as 52% of Americans believe the former president should be charged with a crime.
Advertisement - story continues below
It is very early to be any kind of serious reading about 2024. We haven't even had the midterms yet.
NEW POLL: ABC/Washington Post

2024 Presidential Election
(R) Donald Trump 48% (+2)
(D) Joe Biden 46%

Independents Voters
(R) Donald Trump 48% (+6)
(D) Joe Biden 42%

Suburban Voters
(R) Donald Trump 49% (+3)
(D) Joe Biden 46%

908 RV | 09/18-21 | ±3.5%https://t.co/2K6UNbkwqr

— InteractivePolls (@IAPolls2022) September 25, 2022
Do you think Biden could beat Trump?
But it must be rather embarrassing to spend this much time and effort casting some group of Republicans as extremists, only to have Americans basically respond, "Yeah, well, you suck too."
And in even worse news for Biden — despite getting legislation on infrastructure, healthcare, and climate change passed — a clear majority of Democrats in this poll say they want someone else to be their nominee in 2024.
Additionally, just 39% of Americans approve of his job performance, while 53% disapprove.
Advertisement - story continues below
Meanwhile, Republicans lead Democrats 51% to 46% among likely voters in which party respondents want to control Congress.
The poll was conducted Sept. 18-21 and has a margin of error of plus or minus 3.5 percentage points.
This poll comes after Democrats thought they were riding high in August as the focus centered on Trump and "MAGA Republicans."
But as is the danger in politics, other events — a higher-than-expected inflation report, concerns about a recession, the end to the drop in gas prices — have intervened and shifted the narrative to topics that are beneficial to Republicans.
Advertisement - story continues below
Democrats, and Biden specifically, should be worried as it seems they were only able to successfully utilize their "MAGA" attack to their benefit for about a month.
Biden did the job for Democrats and ousted Trump. Now that he's gone, it seems voters have a hard time thinking about a potential threat when their pocketbooks are hurting.
Truth and Accuracy
We are committed to truth and accuracy in all of our journalism. Read our editorial standards.
Comment Down Below
Conversation