News
Stacey Abrams Says She Could 'Absolutely' Support Manchin's Voting Rights Compromise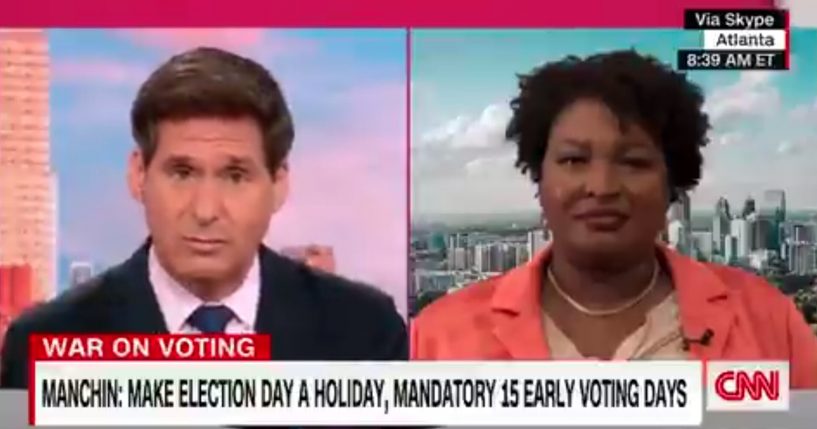 Former Georgia Democratic gubernatorial candidate Stacey Abrams says she could support Sen. Joe Manchin's (D-W.Va.) proposed changes to Democrats' sweeping voting rights bill.
During an interview on CNN's "New Day" Thursday, Abrams was asked if Manchin's compromise is one she could support.
"Absolutely," she responded.
Advertisement - story continues below
Abrams continued, "What Senator Manchin is putting forward are some basic building blocks that we need to ensure that democracy is accessible no matter your geography. And those provisions that he is setting forth are strong ones that will level playing fields, will create strong standards that do not vary from state to state and I think will ensure that every American has improved access to the right to vote."
Host John Berman asked, "You could accept this compromise, what Joe Manchin laid out, even if voter ID was part of it?"
"That's one of the fallacies of Republican talking points that have been deeply disturbing. No one has ever objected to having to prove who you are to vote. It's been part of our nation's history since the inception of voting," Abrams responded.
She went on to decry the "restrictive" voter ID laws that states have implemented, such as preventing students from using their student ID while allowing others to use their gun license as their ID.
Advertisement - story continues below
Watch the video below:
BREAKING: "Absolutely."@staceyabrams says she could support @Sen_JoeManchin's voting rights compromise.pic.twitter.com/54X5mwZT9D

— John Berman (@JohnBerman) June 17, 2021
On Wednesday, Manchin unveiled a set of proposals he could support in a voting rights bill.
They included making Election Day a public holiday, providing 15 days consecutive days of early voting, and automatic voter registration. Additionally, the lawmaker said he would support requiring voter identification but added that he would support letting voters use alternative forms of identification such as a utility bill.
His proposal comes weeks after he announced in an op-ed that he would vote against Democrats' sweeping voting rights bill known as the For the People Act, as IJR reported.
Advertisement - story continues below
"The right to vote is fundamental to our American democracy, and protecting that right should not be about party or politics. Least of all, protecting this right, which is a value I share, should never be done in a partisan manner," he said in an op-ed.
He continued, "Unfortunately, we now are witnessing that the fundamental right to vote has itself become overtly politicized. Today's debate about how to best protect our right to vote and to hold elections, however, is not about finding common ground, but seeking partisan advantage."
Manchin went on to decry laws that "needlessly restrict voting," but also laws aimed at expanding access to voting that "ignore the need to secure our elections."
Truth and Accuracy
We are committed to truth and accuracy in all of our journalism. Read our editorial standards.
Conversation