Abrams Dodges Question About Whether She Has Been Interviewed to Be Biden's Running Mate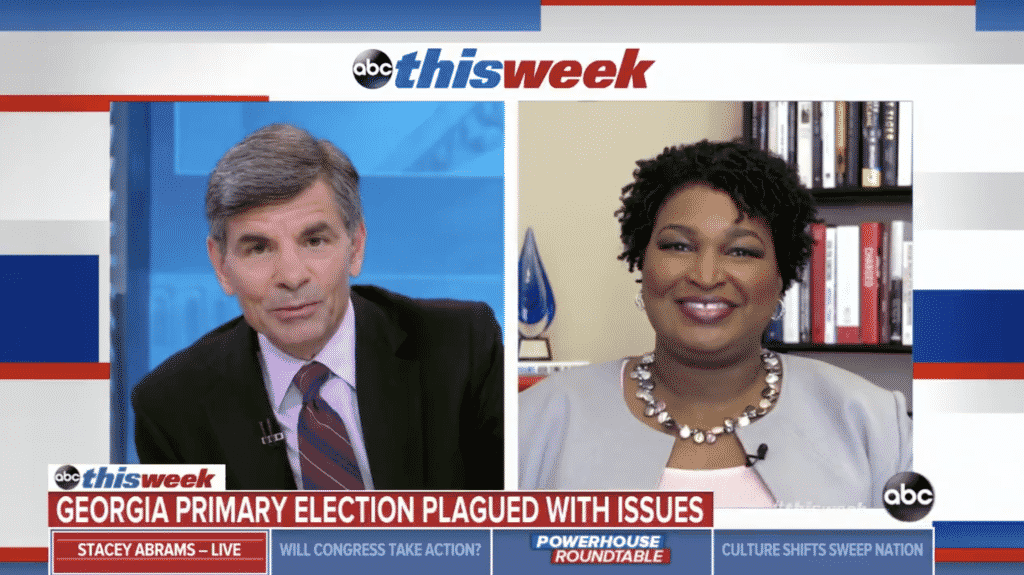 Former Georgia gubernatorial candidate Stacey Abrams (D) says she would be an excellent running mate, but she will not say if she has been interviewed for a spot on the ticket.
During an interview on ABC's "This Week," Abrams was asked if former Vice President Joe Biden's campaign had interviewed her, she said, "I will say that vetting conversations need to be had with the Biden team."
During an appearance on CBS' "The Late Show" on Wednesday, Abrams was asked about rumors that she was being vetted to be Biden's vice presidential pick.
She said, "I have said many times that if called, I will answer, but I have not received any calls."
But on Sunday, she sought to clarify her comments, "I want to be clear that I was responding to a very narrow question."
Watch the video below: 
Stacey Abrams won't say if she has been interviewed by the Joe Biden campaign as a potential vice presidential pick, telling @GStephanopoulos, "My focus is on making sure that we have elections that can happen in November." https://t.co/GJNVZLRsYS pic.twitter.com/KsMZIWm6VN

— This Week (@ThisWeekABC) June 14, 2020
"My focus is on making sure that we have elections that can happen in November," Abrams said, adding, "There will be no vice president, there will be no president if our democracy crumbles under the inefficiencies and the inequities that we see happening.
Last week, Abrams claimed that democracy was at risk in the U.S. with President Donald Trump in the White House, as IJR reported.
"We need to take steps now to ensure that our presidency is not a gateway to the type of authoritarian regimes we've seen in Turkey," she said.
She added, "We have to acknowledge the authoritarian nature of Donald Trump, and we've got to nip it in the bud if we want democracy to continue here, and if we want to continue to be the moral leader abroad."