News
Nat'l Security Adviser Claims 'We Were Clear-Eyed' That Taliban Might Take Over – Biden Said It Was 'Highly Unlikely'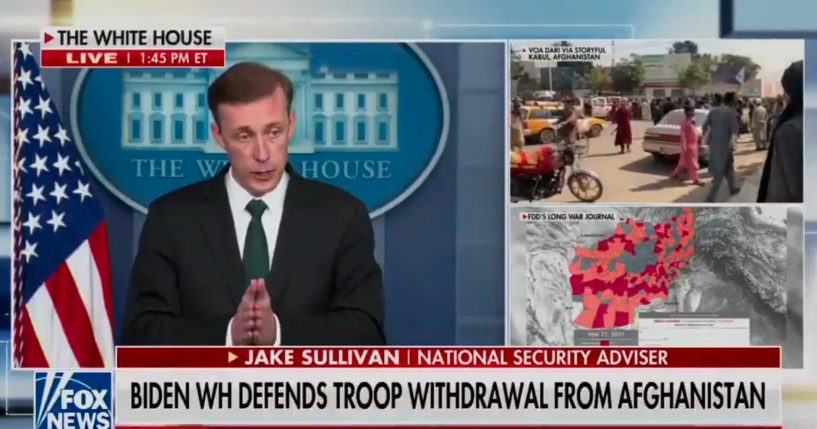 National Security Adviser Jake Sullivan insists that Biden administration officials were "clear-eyed" about the potential that the Taliban could take over Afghanistan, despite the president telling reporters last month that such a scenario was "highly unlikely."
During a press briefing at the White House on Tuesday, Sullivan said, "We were clear-eyed going in when we made this decision that it was possible that the Taliban would end up in control of Afghanistan. We were clear-eyed about that."
"Now, as the president said in his remarks yesterday, we did not anticipate that it would happen at this speed," he added.
Advertisement - story continues below
He went on to say that the administration planned for the possibility that the Taliban would take over Afghanistan. He also said officials acknowledged that if the Taliban took over, there would likely be thousands of Afghans going to airports to escape the country.
Watch the video below:
Jake Sullivan on the Biden admin's Afghanistan exit: "We were clear-eyed going in…that it was possible that the Taliban would end up in control of Afghanistan."

But just last month, Joe Biden told reporters a Taliban takeover was "highly unlikely."🤔https://t.co/IGHtjLUI7Q pic.twitter.com/6E91wCTWtu

— America Rising (@AmericaRising) August 17, 2021
Sullivan's comments come after the Taliban seized control of Afghanistan, prompting thousands of Afghans to rush to the Hamid Karzai International Airport in an attempt to flee the country.
Advertisement - story continues below
Images and videos of the chaotic scenes at the airport left many wondering why it appeared that the administration was unprepared for a Taliban take over.
While Sullivan said administration officials were "clear-eyed" about the potential that Afghanistan could fall to the Taliban, that was not the message President Joe Biden was communicating just over a month ago.
During a press conference in July, Biden said, "The likelihood there's going to be the Taliban overrunning everything and owning the whole country is highly unlikely."
Additionally, in June, Secretary of State Antony Blinken downplayed the potential that Afghanistan would collapse soon after the U.S. withdrawal.
During Congressional testimony, he said, "Whatever happens in Afghanistan if there is a significant deterioration in security, that could well happen. We've discussed this before. I don't think it's going to be something that happens from a Friday to a Monday. So I wouldn't [necessarily] equate the departure of our forces in July, August, or by early September with some kind of immediate deterioration in the situation."
Advertisement - story continues below
Sullivan has admitted this week that the collapse of Afghanistan "certainly unfolded at unexpected speed."
And in remarks at the White House on Monday, Biden defended the withdrawal as he said there was no "good" time to pull troops out of the country. He also admitted that the Afghan government collapsed sooner than expected.
"So, what's happened? Afghan political leaders gave up and left the country. The Afghan military collapsed," Biden said, adding, "If anything, the developments of the past week reinforced that ending military involvement in Afghanistan now was the right decision. American troops cannot and should not be fighting in a war and dying in a war that Afghan forces are not willing to fight for themselves."
Truth and Accuracy
We are committed to truth and accuracy in all of our journalism. Read our editorial standards.
Comment Down Below
Conversation