News
As Anniversary of Afghanistan Withdrawal Nears, Biden Admin Trying to Avoid Doing Anything 'Stupid': Report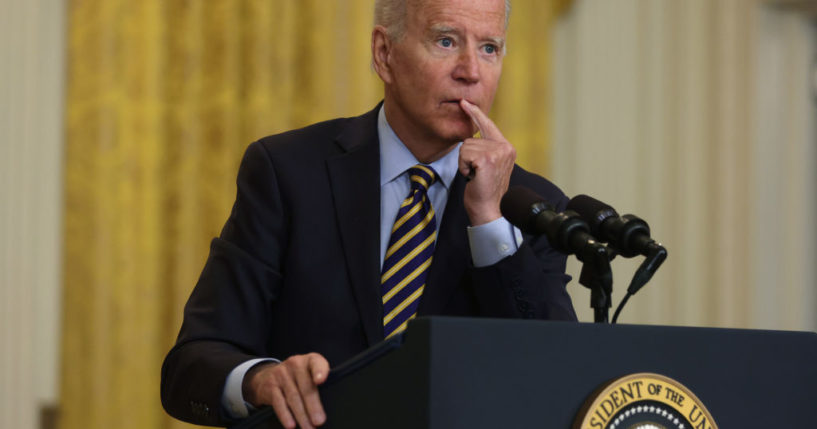 The Biden administration is trying to avoid any more "political damage" as the first anniversary since the U.S. troop withdrawal in Afghanistan nears, a report says.
The National Security Council aims to make sure administration officials do not do anything "stupid" and add to President Joe Biden's "political woes," NBC News reported.
The first anniversary of the Afghanistan exit is next month.
Advertisement - story continues below
"His aides hope to mitigate further political damage from a moment that will remind Americans of an effort many of them consider one of Biden's biggest failures, at a time when they are already questioning his effectiveness on a host of issues," the outlet reported.
The withdrawal, dubbed by NBC News as "one of the darkest chapters of Biden's presidency," was widely criticized.
Coming just seven months after taking office, the withdrawal "raised questions among Republicans and Democrats about the competence of his administration," as the outlet wrote.
Ahead of the anniversary, a concern in the administration is that an official may spark fury if they "do something that could be seen as insensitive to the families of the 13 service members killed in a bombing at the Kabul airport on Aug. 26," NBC News reported, citing administration officials.
Advertisement - story continues below
President Biden, First Lady Dr. Jill Biden, @SecDef Austin and others participate in dignified transfer at Dover Air Force Base of 13 service members killed in Afghanistan.

(Note: Video has no audio) pic.twitter.com/s7EOMCGEXz

— CSPAN (@cspan) August 29, 2021
Despite his past promise that the withdrawal would be done "responsibly, deliberately, and safely," chaos broke out as Kabul fell to the Taliban.
Are you angry about how the withdrawal played out?
Videos and photos circulated across social media and news sites of people trying to evacuate the country.
There was a bombing that killed 13 U.S. service members, a "botched U.S. military airstrike on Aug. 29" that killed 10 innocent people, including seven children, and "the departure of the last U.S. troops on Aug. 30 while Americans and Afghans who had helped the U.S. during the 20-year war were left behind," as NBC News wrote.
Scenes of panic and chaos played out at the airport in Kabul as crowds of people desperate to escape Afghanistan rushed onto the tarmac.

Some clung to the sides of planes, even as one taxied down the runway, in a bid to flee the Taliban.https://t.co/pAgoGW7tos pic.twitter.com/4YGQd2iEzk

— The New York Times (@nytimes) August 16, 2021
Advertisement - story continues below
A National Security Council spokesperson told NBC News, "We know next month will give us an appropriate opportunity to honor the service and sacrifice of those we lost, as well as recognize the many people we saved."
The statement continued, "We are also focused on how we are on a stronger strategic footing now that the war is over. We are continuing to help people leave Afghanistan and resettle in the U.S. through Operation Allies Welcome, and we will continue to ensure that we remain vigilant and are appropriately positioned to counter any terrorism threats."
Per Fox News, the U.S. spending committed to Ukraine as it fends off Russia's invasion has exceeded the spending in Afghanistan during the first five years.
The first anniversary of the withdrawal also comes as there are growing concerns about Biden among Democrats ahead of the 2020 midterms.
Truth and Accuracy
We are committed to truth and accuracy in all of our journalism. Read our editorial standards.
Comment Down Below
Conversation