News
Air Force Shares Several People 'Intended' To 'Hijack' Commercial Flight During Afghanistan Evacuations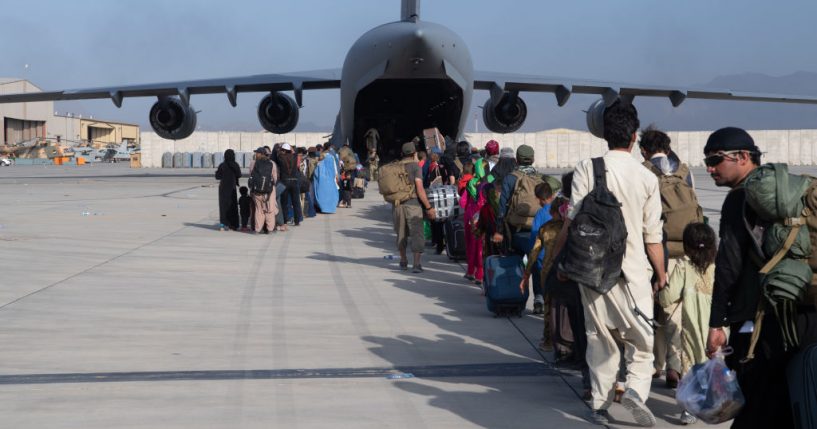 The U.S. Air Force is revealing that multiple people "intended" to hijack a commercial flight during the evacuation efforts in Afghanistan.
In a statement on Tuesday, the Air Force said, "On one occasion after they received an intel tip, five people onboard one of the commercial flights intended to hijack the aircraft."
Lt. Col. Brian Desautels said, "Our team worked to get them clear of the NATO ramp, relocated to the north side away from friendly forces, then ultimately onto the south side where the situation was handled."
Advertisement - story continues below
The Air Force also touched on the "24/7 news" of Hamid Karzai International Airport in Kabul, Afghanistan. The statement specifically noted "the iconic video of a C-17 took off among a swarm of desperate Afghans who resorted to holding on to the outside and wheel chamber of the departing airplane."
It continued, "Not caught on video and less than a minute later, both HC-130J Combat King II took off on a sliver of remaining runway. With seconds to spare, they were airborne skimming just 10 feet above the crowd."
Chaos broke out at the airport, and a video went viral showing Afghans clinging to a U.S. Air Force plane as it took off from Kabul. Multiple people are seen falling from the plane.
"I was able to contact the CFACC (Combined Forces Air Component Commander) and received authorization to take off from the taxiway, if needed," Desautels said. "The strategic message: we would have a runway."
Advertisement - story continues below
On Monday, a spokesperson for the Air Force confirmed to the Washington Examiner that an investigation into the incident is still ongoing.
Additionally, the statement addressed the attack on Aug. 26 that killed 11 Marines, one Navy corpsman and one Soldier, as well as roughly 170 civilians. Seventeen service members received care, and, as of Oct. 6, a Marine was in "serious but stable condition."
Desautels said, "There were lots of very badly injured people hurt … lots of blood. The surgeons were worn out. Many died on the operating table."
President Joe Biden previously defended the withdrawal from Afghanistan, saying, "The United States did what we went to do in Afghanistan, to get the terrorists who attacked us on 9/11 and deliver justice to Osama Bin Laden and to degrade the terrorist threat to keep Afghanistan from becoming a base in which attacks could be continued against the United States."
He added, "We achieved those objectives. That's why we went. We did not go to Afghanistan to nation-build, and it is the right and the responsibility of Afghan people alone to decide their future and how they want to run their country."
Truth and Accuracy
We are committed to truth and accuracy in all of our journalism. Read our editorial standards.
Comment Down Below
Conversation