News
Singer Jason Aldean Public Relations Firm Cuts Ties With Him After Wife's Transgender Joke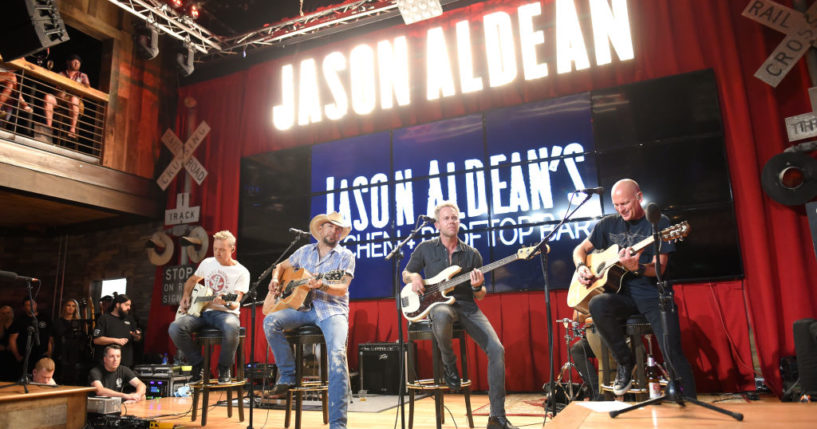 Singer Jason Aldean's public relations firm of 17 years has decided to part ways with him after wife Brittany Aldean's recent joke on transgenderism.
The GreenRoom co-owner Tyne Parrish made a statement to Billboard about the split saying,
"Music has always been and remains The GreenRoom's core focus, so we had to make the difficult decision after 17 years to step away from representing Jason. We aren't the best people for the gig anymore, but will always be big fans of his music — he is one of the greatest live entertainers in country music."
Advertisement - story continues below
This decision comes after Brittany Aldean posted a video to her Instagram on August 23. showcasing her makeup transformation.
In the caption, she wrote, "I'd really like to thank my parents for not changing my gender when I went through my tomboy phase. I love this girly life."
Her comment received backlash from singers such as Cassadee Pope and Maren Morris who slammed her on Twitter and Instagram.
Advertisement - story continues below
"You'd think celebs with beauty brands would see the positives in including LGBTQ+ people in their messaging. But instead here we are, hearing someone compare their "tomboy phase" to someone wanting to transition. Real nice," Cassadee Pope wrote.
Maren Morris responded to Cassadee Pope's tweet writing, "It's so easy to, like, not be a scumbag human? Sell your clip-ins and zip it, Insurrection Barbie."
Brittany Aldean responded to Casadee Pope on her Instagram story writing, "advocating for the genital mutilation under the disguise of love and calling it 'Gender Affirming Care,' is one of the worst evils," per ENews.
She also responded to Maren Morris on her Instagram story writing, "Karen Morris. Thanks for calling me Barbie."
On Wednesday, Brittany Aldean responded to the controversy on her Instagram claiming her words were "taken out of context."
Advertisement - story continues below
She also promoted her "Barbie inspired line" to give back to and support @operationlightshine "in effort to help fight child exploitation and human trafficking."
"Instead of getting twisted about the twisting of my words, I've chosen to bring some good out of it," she wrote.
Truth and Accuracy
We are committed to truth and accuracy in all of our journalism. Read our editorial standards.
Comment Down Below
Conversation