News
Olympic Medalist Allyson Felix Provides Free Child Care for Athletes Competing in Race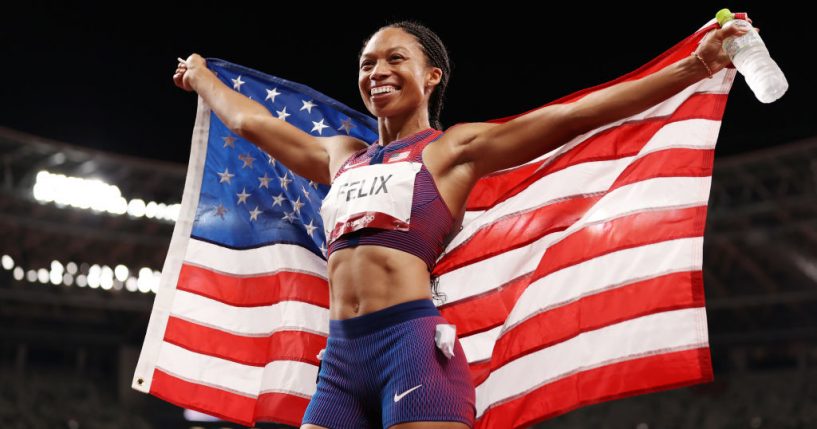 11-time Olympic medalist Allyson Felix is offering free child care for coaches, athletes, and staff participating in the 2022 USA Track and Field Outdoor Championships.
Felix, who is also a mother herself to a three-year-old daughter, partnered up with her sponsor, Athleta, and her nonprofit organization titled, &Mother, which she co-founded with her Team USA teammate Alysia Montaño, to make this happen, according to "Good Morning America."
A statement posted on Instagram reads, "Together, Athleta and [Allyson Felix] aim to improve wellbeing and remove barriers for mom athletes who oftentimes must choose between their career and their families, empowering them to reach their limitless potential both on and off the track."
Advertisement - story continues below
Last year, Felix teamed up with Athleta to provide a 200,000 grant program "to cover child care costs for professional mom-athletes traveling to competitions," "Good Morning America" writes.
"My final season is not about winning medals but giving back to the sport and future mom-athletes, and leaving it better for the next generation of women raising children to flourish in every aspect of their lives," Felix wrote in a statement.
Athleta and Allyson Felix will pioneer the next chapter of advocating for women by providing free, accessible child care, in partnership with nonprofit organization &Mother, for select track & field events in 2022. More announcements to come. pic.twitter.com/EdiLeQ5DTF

— Saysh (@BySaysh) June 21, 2022
Felix announced that this will be her final season and she will be "running for women."
Advertisement - story continues below
"This season I'm running for women. I'm running for a better future for my daughter. I'm running for you. More to come on that, so stay tuned, but I'll be sharing a series of announcements that I'm hoping will make the world better for women," she wrote on her Instagram.
A statement written on the &Mother website by Montaño reads, "Having a child does not limit our ability to achieve. I can be a champion and a mother."
Felix told NPR's Morning Edition that she felt like she "had to win all the medals," and "do all the things," before she could even think about starting a family, and that's something that she doesn't want her daughter to feel.
Truth and Accuracy
We are committed to truth and accuracy in all of our journalism. Read our editorial standards.
Comment Down Below
Conversation