Commentary
Angry House Dems Push Schumer, Pelosi to Vastly Limit Supreme Court's Jurisdiction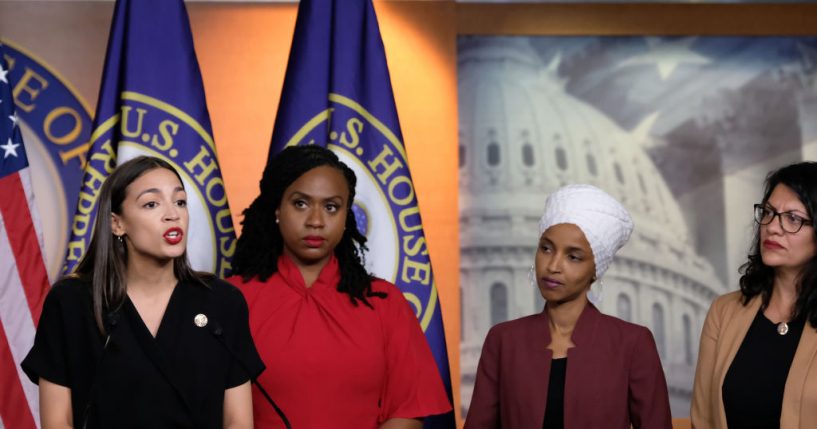 As the liberal meltdown over the Supreme Court's decision to overturn Roe v. Wade continues, some House Democrats believe they have found a novel solution: just limit what issues are within its jurisdiction.
In a letter to House Speaker Nancy Pelosi (D-Calif.) and Senate Majority Leader Chuck Schumer (D-N.Y.), a group of Democrats said, "We write to urge your support for restricting the Supreme Court's appellate jurisdiction in the areas of abortion, marriage equality, non-procreative intimacy, and contraception."
"In doing so, we can ensure that, as Congress takes legislative action to codify each of these fundamental rights, a radical, restless, and newly constituted majority on the Court cannot further undermine the protections we would enact," it added.
Advertisement - story continues below
The lawmakers noted that the House passed the Women's Health Protection Act (WHPA) — which would codify abortion access — and that there would likely be legal challenges if the bill is ever signed into law.
"The solution is to prevent the Supreme Court from reviewing the constitutionality or legality of the WHPA," the letter asserted as it claimed Article III Section 2 of the Constitution gives Congress the authority to limit the court's appellate jurisdiction.
Read the bizarre letter below:
With our basic rights under threat from a rogue Supreme Court, Congress needs to exercise our legal authority to the fullest extent. That's why today we called on @SenSchumer and @SpeakerPelosi to support stripping the Supreme Court's jurisdiction over abortion. pic.twitter.com/9Rp6RkEqs8

— Rep. Alexandria Ocasio-Cortez (@RepAOC) July 14, 2022
Advertisement - story continues below
The lawmakers suggested that Congress could "assign exclusive appellate jurisdiction to another federal court such as the D.C. Circuit… avoiding appellate review by other far-right circuits and the Supreme Court."
The signatories of the letter included Reps. Alexandria Ocasio-Cortez (D-N.Y.), Rashida Tlaib (D-Mich.), Mondaire Jones (D-N.Y.), Cori Bush (D-Mo.), Ilhan Omar (D-Minn.), and Jamaal Bowman (D-N.Y.).
Assuming that such ridiculous legislation somehow passes Congress and successfully survives any potential legal challenge, it would be shredding the Constitution and the notion of checks and balances, setting them on fire, and then defecating on their ashy remains.
The letter itself states its reasoning in no uncertain terms: We want to pass legislation, and we don't want it to be overturned.
Not that these signatories would care, in fact, they may savor the thought, but the Founding Fathers would be rolling in their graves at the thought of Congress passing legislation to give that would make their laws essentially immune from a check.
Advertisement - story continues below
And it sets a dangerous precedent of lawmakers trying to get around measures carefully designed that they can't just pass whatever legislation they want because they feel like it. The chances that Republicans or other Democrats would not use the precedent to protect other legislation is close to zero.
On its face, it seems that there is some merit to the idea that Congress can limit the court's jurisdiction in such a manner. However, it seems odd that lawmakers would be able to prevent the court from potentially addressing issues and decisions that it has already ruled on.
Why should the justices be unable to review previous decisions of the court if it believes they were wrong?
In the 1800s, large swaths of the country believed that racial segregation was acceptable. And the court ruled in Plessy v. Ferguson that "separate but equal facilities" for racial groups were acceptable. But roughly 60 years later, the court overturned Plessy and started the process of ending segregation.
Advertisement - story continues below
Imagine if Congress in the 1800s decided to limit the court's appellate jurisdiction regarding racial segregation after Plessy.
Even if this ploy worked, it would most likely blow up in their faces because whenever Republicans returned to power, they would either try to repeal it or pass similar legislation to protect gun rights, or both, kicking off a vicious cycle of lawmakers messing with the court's jurisdiction and even more wild swings in policy.
Truth and Accuracy
We are committed to truth and accuracy in all of our journalism. Read our editorial standards.
Comment Down Below
Conversation