News
Audio Shows McCarthy Weighing Recommending Trump Resign Following Jan. 6 – After He Denied Report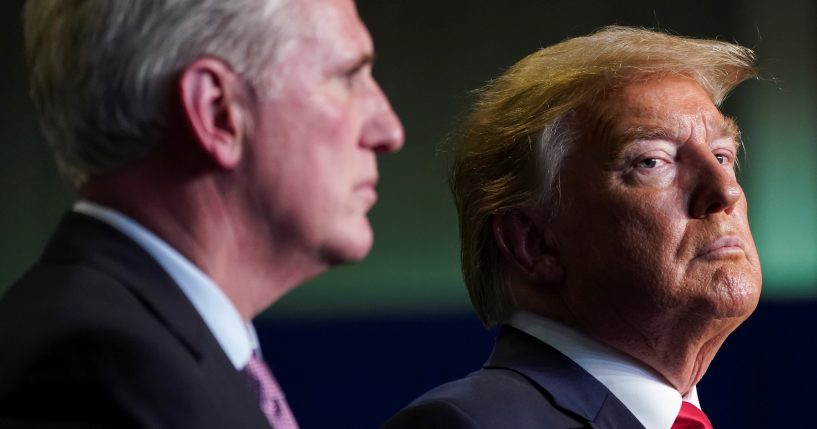 House Minority Leader Kevin McCarthy (R-Calif.) denies a report that he told colleagues he would recommend then-President Donald Trump resign after the Jan. 6 riot at the U.S. Capitol.
However, the audio of a call with House Republican leaders days after the violence tells another story.
On Thursday night, MSNBC's Rachel Maddow played an audio clip of a call with Republican leaders that was dated Jan. 10, 2021.
Advertisement - story continues below
Rep. Liz Cheney (R-Wyo.), who was still in Republican leadership at the time, addressed a resolution about the 25th Amendment and asked if McCarthy was "hearing that [Trump] might resign."
"I've had a few discussions. My gut tells me no. I'm seriously thinking of having that conversation with him tonight. I haven't talked to him in a couple days," McCarthy responded.
He continued, "From what I know of him, I mean you guys all know him too, do you think he'd ever back away? But what I think I'm going to do, is I'm going to call him. This is what I think. We know it'll pass the House. I think there's a chance it'll pass the Senate, even when he's gone, and I think there's a lot of different ramifications for that."
McCarthy also said he did "not want to get into any conversation about Pence pardoning" if Trump resigned.
Advertisement - story continues below
Listen to the audio below:
Recording of McCarthy and Cheney pic.twitter.com/oHMMV7TXbo

— Acyn (@Acyn) April 22, 2022
Do you think McCarthy should have denied the story?
Finally, McCarthy said, "The only discussion I would have with him is that I think this will pass, and it would be my recommendation that you should resign."
"I mean, that would be my take, but I don't think he would take it. But I don't know," he added.
The New York Times reported on Thursday that McCarthy told his colleagues he would tell Trump to resign.
Advertisement - story continues below
"I've had it with this guy," he reportedly said.
However, in a statement, McCarthy denied the report — before the audio was released.
"The New York Times' reporting on me is totally false and wrong. It comes as no surprise that the corporate media is obsessed with doing everything it can to further a liberal agenda," McCarthy said.
My statement on the New York Times pic.twitter.com/PWi2WkoWzh

— Kevin McCarthy (@GOPLeader) April 21, 2022
Advertisement - story continues below
He added, "The past year and a half have proven that our country was better off when President Trump was in the White House and rather than address the real issues facing Americans, the corporate media is more concerned with profiting from manufactured political intrigue from politically-motivated sources."
Additionally, McCarthy's spokesperson, Mark Bednar, said, "McCarthy never said he'd call Trump to say he should resign."
Truth and Accuracy
We are committed to truth and accuracy in all of our journalism. Read our editorial standards.
Comment Down Below
Conversation