Azar in Resignation Letter To Trump: Capitol Riot Could 'Tarnish' the Admin's 'Historic Legacies'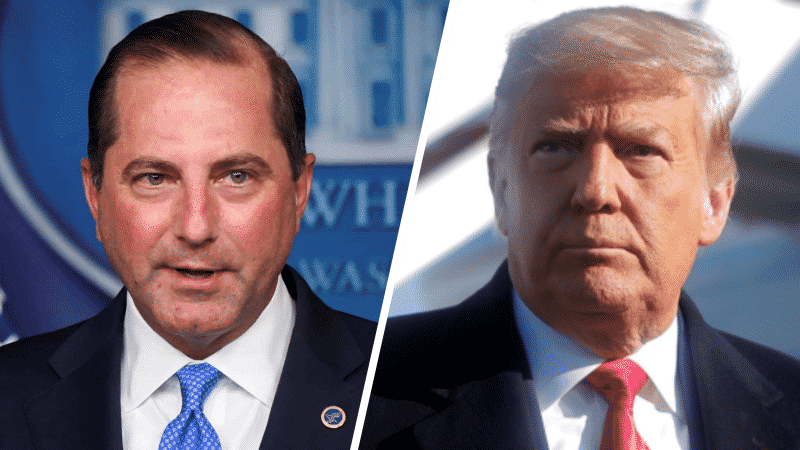 Health and Human Services (HHS) Secretary Alex Azar submitted his resignation letter to President Donald Trump, in which he cited the protests that broke out last week at the U.S. Capitol.
In a departure letter to Trump this week, Azar claimed that "actions and rhetoric" surrounding the election and the U.S. Capitol riot could "tarnish" the "historic legacies" of the administration. Trump pushed unsubstantiated claims of widespread voter fraud and sought to overturn the election results.
Azar wrote, "Unfortunately, the actions and rhetoric following the election, especially during the past week, threaten to tarnish these and other historic legacies of this Administration. The attacks on the Capitol were an assault on our democracy and on the tradition of peaceful transitions of power that the United States first brought to the world."
The HHS secretary then called on Trump to "continue to condemn unequivocally any form of violence":
"I implore you to continue to condemn unequivocally any form of violence, to demand that no one attempt to disrupt the inaugural activities in Washington or elsewhere, and to continue to support unreservedly the peaceful and orderly transition of power on January 20, 2021."
In an address from the Oval Office this week, Trump said, "I want to be very clear. I unequivocally condemn the violence that we saw last week. Violence and vandalism have absolutely no place in our country and no place in our movement," as IJR reported.
See Azar's full letter below:
I handed in my letter this week along with every other political appointee, effective January 20 at noon.

— Secretary Alex Azar (@SecAzar) January 16, 2021
Azar also hit back at the CNN chyron, clarifying that he will still be "serving the American people at HHS," adding, "I believe it is my duty to help ensure a smooth transition to President-elect Biden's team during the pandemic and will remain as Secretary through January 20."
He noted he will remain in the position until noon on Jan. 20. As The Hill reports, it is standard practice that government appointees submit a departure letter before the end of that administration.
President-elect Joe Biden's inauguration is on Wednesday.