HHS' Azar Slams Gov. Cuomo for Suggesting Potential COVID-19 Vaccine Is 'Good/Bad News'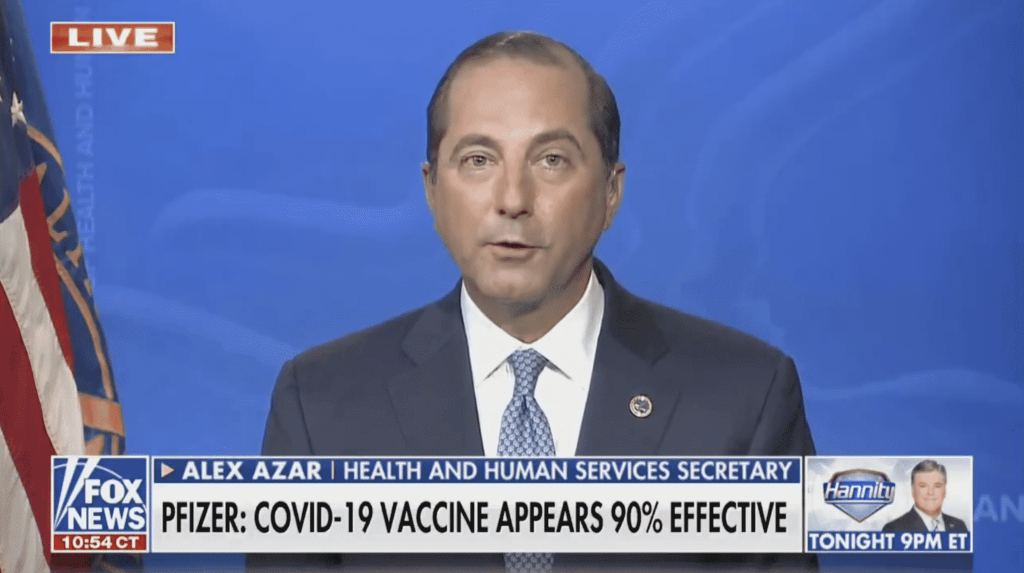 New York Gov. Andrew Cuomo (D) says it is "good/bad news" that Pfizer's coronavirus vaccine trial has shown efficacy under President Donald Trump's tenure, and is arguing that the current administration does not have an adequate vaccination plan.
Because of that, Cuomo told ABC's "Good Morning America" that he wants to "shape the Trump Administration vaccine plan to fix it or stop it before it does damage."
During an appearance on Fox News on Monday, Health and Human Services (HHS) Secretary Alex Azar was asked about Cuomo's comments. He said, "It's just absolutely unconscionable that somebody would want to delay a vaccine to the American people that's safe and effective just for political, partisan reasons."
"Here's the really interesting thing, is Operation Warp Speed is working very closely with Governor Cuomo's Health Commission Dr. Howard Zucker and his team. Because guess who's actually in charge of distributing within any state … the governor is," he added.
Azar went on to say that Cuomo's team has been doing a "really good job" working with HHS. However, he slammed the governor for adopting a "one-size fits all approach that only government can do things" in regard to a coronavirus vaccine.
When asked if he had heard other governors say they want to stop the Trump administration from carrying out its vaccine distribution plan, Azar said, "No, the other governors that we're working with are excited, and they want to be in charge of the distribution."
"They're working in partnership with us, and we've got a great plan that leverages the finest distribution system in the world to make sure a vaccine gets where it needs to go safely and effectively," he added.
Watch the video below:
.@SecAzar responds to @AndrewCuomo saying it's "bad news" that the COVID-19 vaccine will come while @realDonaldTrump is in office.

"It's just absolutely unconscionable that somebody would want to delay a vaccine…that's safe and effective just for political, partisan reasons." pic.twitter.com/wtSrBf78uW

— Washington Examiner (@dcexaminer) November 9, 2020
On Monday, Pfizer announced its vaccine trial has shown efficacy "in preventing COVID-19 in participants without evidence of prior SARS-CoV-2 infection in the first interim efficacy analysis."
However, Cuomo said, "Well, it's good news/bad news."
He explained, "The good news is the Pfizer tests look good, and we'll have a vaccine shortly. The bad news is that it's about two months before Joe Biden takes over, and that means this administration is going to be implementing a vaccine plan."
And he argued that the Trump administration's partnership with private companies would "leave out all sorts of communities that were left out the first time when Covid ravaged them."
"You have two months, and we can't let this vaccination plan go forward the way that Trump and his administration is designing it because Biden can't undo it two months later," Cuomo said.
He added, "I've been talking to governors across the nation about that. How can we shape the Trump Administration vaccine plan to fix it or stop it before it does damage."