News
Amy Coney Barrett Declares Supreme Court Is 'Not Comprised of a Bunch of Partisan Hacks'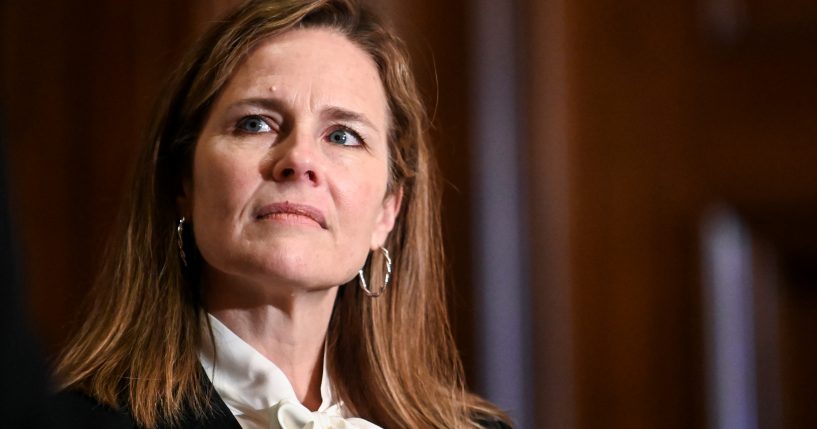 Supreme Court Justice Amy Coney Barrett is pushing back against suggestions that the Supreme Court is partisan.
During an event at the University of Louisville on Sunday, Barrett argued, "My goal today is to convince you that this court is not comprised of a bunch of partisan hacks," according to the Louisville Courier Journal.
Barrett was appointed by former President Donald Trump and confirmed in 2020 to the Supreme Court. Her confirmation made the Supreme Court a 6-3 conservative majority.
Advertisement - story continues below
Her remarks came shortly after the Supreme Court refused to block Texas' new abortion law, which bans abortions in the state after 6 weeks.
Supreme Court Justice Stephen Breyer called the majority opinion "very, very, very wrong" during Friday's interview with NPR.
Additionally, President Joe Biden labeled the law "so extreme" because "it does not even allow for exceptions in the case of rape or incest." The Department of Justice filed a lawsuit against Texas over its controversial new abortion law.
Barrett also said, "Judicial philosophies are not the same as political parties," according to the Courier Journal.
Advertisement - story continues below
The Supreme Court justice said justice have to be "hyper vigilant to make sure they're not letting personal biases creep into their decisions, since judges are people, too," according to The Associated Press (AP).
She added at Sunday's event, "To say the court's reasoning is flawed is different from saying the court is acting in a partisan manner. I think we need to evaluate what the court is doing on its own terms," according to AP.
Truth and Accuracy
We are committed to truth and accuracy in all of our journalism. Read our editorial standards.
Comment Down Below
Conversation