Commentary
Joy Behar Suggests the Media Should Ignore Tucker Carlson Amid Scrutiny After Buffalo Shooting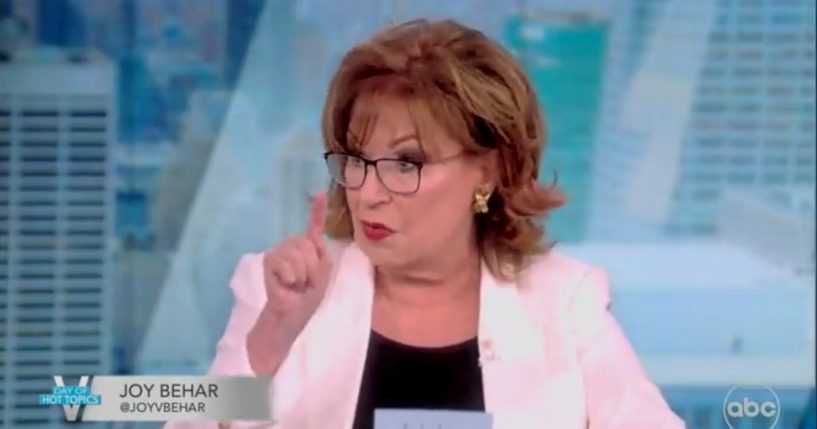 They say a stopped clock is right twice a day.
In this case, the stopped clock happens to be "The View" co-host Joy Behar.
During a segment about the tragic shooting in Buffalo, New York, the co-hosts addressed scrutiny of Fox News' Tucker Carlson's show.
Advertisement - story continues below
The suspect in the shooting allegedly published a manifesto that appears to show that he was inspired by "The Great Replacement" theory — which claims that white people are being replaced by immigrants.
Carlson has been accused of using his platform to spread and mainstream the theory, which has previously led to calls for his firing.
But on Tuesday, Behar suggested a different strategy to deal with the popular personality.
"Back in the World War II period, there was a guy named Father Coughlin, and he was a racist and an anti-semite, he was a priest from the Catholic Church," Behar began.
Advertisement - story continues below
She continued, "He had, in a country of 127 million people, he was on the radio, he had 30 to 40 million listeners. That's a lot."
"Tucker Carlson has, in a country of 326 million we have grown, he has 3 million listeners. So it's 30 to 40 million versus 3 million. He's almost irrelevant if you think about it. And I think maybe that's the way to go with it. Just ignore him. Every time we talk about him, every time the media gives him air time, he gets bigger and bigger," she added.
Do you think Behar is right?
Watch the video below:
Joy Behar: "Tucker Carlson has, in a country of 326 million people, he has 3 million listeners … he's almost irrelevant." pic.twitter.com/SYPQp633d4

— Washington Free Beacon (@FreeBeacon) May 17, 2022
On Monday, Carlson denounced racism and the alleged manifesto.
Advertisement - story continues below
And the suspect is solely responsible for his actions.
But Behar raises an important point, while Carlson is Fox's most-watched host, the number of people watching his show is a really small portion —- around one percent — of the country.
And while many are accusing Carlson of spreading the racist theory, they are also spreading those same claims by sharing clips of his show or printing his quotes which increases the number of people who see or read them.
Three million people is, to be clear, not insignificant.
Advertisement - story continues below
However, instead of constantly highlighting his claims and giving his statements more oxygen, perhaps they should follow Behar's advice and ignore him.
Truth and Accuracy
We are committed to truth and accuracy in all of our journalism. Read our editorial standards.
Comment Down Below
Conversation