Commentary
Biden Touts Closing Loophole on Canadian Border, There is Just One Major Problem with the Proposal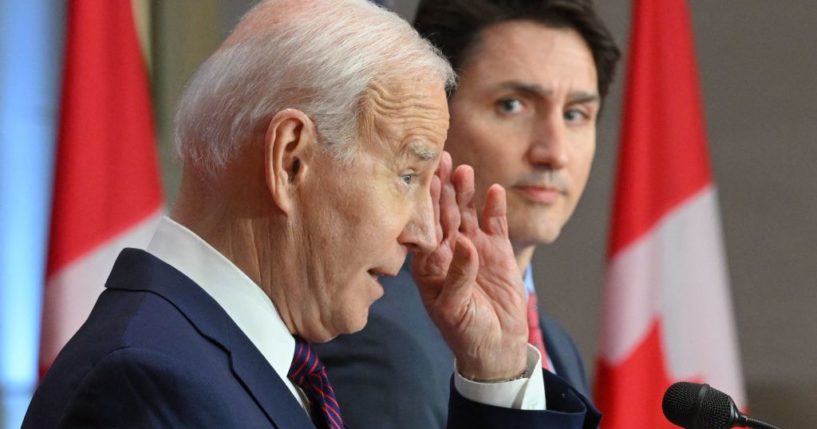 President Joe Biden has finally worked with a foreign neighbor to address the problem of unwanted illegal immigrants.
However, before getting excited, you should know: The policy was made with Canada, not Mexico. Unsurprisingly, it's a lopsided disaster for America.
Last week, the Biden administration reached an agreement with Canada to put a halt to the tide of illegal immigrants flowing from the U.S. across the northern border and into Canada, the BBC reported from Ottawa on Friday.
Advertisement - story continues below
Naturally, the terms are all favorable to America's northern neighbor and will allow Canada to push illegals back across their border and return them to the U.S.A. even as Biden indulges ever more lenient policies on the opposite border.
The new agreement closes the loophole in U.S. border policy that allowed illegals to claim asylum in Canada at any point along the northern border, including unofficial ports of entry.
Canada was upset that more than 40,000 illegals had crossed from the U.S. into Canada last year, many of them entering via Roxham Road at the US-Canada border that runs from northern New York into Canada.
The original agreement from 2004 allowed illegals to claim asylum at the first "safe" country they reached — which was defined as either the U.S. or Canada. It also allowed them to present their asylum claim at any spot along the northern border, including both official entry points and unofficial roadways.
Advertisement - story continues below
The new policy, though, puts an end to the asylum seeking claims at unofficial ports and maintains that illegals may only enter Canada through the country's roads, airports, and sea ports that serve as official points of entry. The new agreement extends across the entire mutual border.
Migrant groups in Canada have blasted the plan as being ineffective in that it won't stop illegals from crossing over unofficial roads, and also endangers illegals seeking asylum.
Should Biden be removed from office?
Whatever it will or won't do, the fact is, it's a major problem that this policy will be favorable only to Canada. That's because the policy will allow Canadian authorities in Ottawa to simply deport whatever illegals they find back across the border, whenever they want to do so, whereas before, they were legally bound to accept them all.
The policy is amusing, in so much that it reveals the blatant hypocrisy of Canada's leader, left-wing Prime Minister Justin Trudeau. After all, only a few years ago, before Biden's flood of illegals swelled to a tidal wave, Trudeau was puffing himself up as the "caring and inclusive" world leader by saying all are welcome in Canada.
In 2018 he posted a note to Twitter, saying, "To those fleeing persecution, terror & war, Canadians will welcome you, regardless of your faith. Diversity is our strength #WelcomeToCanada."
Advertisement - story continues below
To those fleeing persecution, terror & war, Canadians will welcome you, regardless of your faith. Diversity is our strength #WelcomeToCanada

— Justin Trudeau (@JustinTrudeau) January 28, 2017
Now, only five years later, he is making rules he hopes will stop the very same people he was so magnanimously welcoming. Granted, in 2018, Canada reported only 26,000 illegals crossing the America's northern border. That has now about doubled.
Still, it is clear that even the left-wingers in Canada's government understand far better than Joe Biden that the northern part of the hemisphere is suffering an invasion of illegals and something has to be done to stop it.
Advertisement - story continues below
Despite their proclamations about how everyone is welcome in Canada, they don't want a flood of unknown illegals in their country, either.
Meanwhile, Joe Biden has not only thrown open the door on the southern border and thrown away all efforts to limit illegals, identify illegals, or make sure they are true asylum seekers and not just economic migrants, he is also trying to shut off the northern border for them to pass through the U.S. on the way to Canada so that they are forced to stay here in the U.S A.
Biden is trying to make sure America is flooded with countless people with unknown criminal and medical histories, who will overburden America's hospitals, schools, and social services, as well as people who have no affinity for becoming Americans and adopting its ways, and people with little incentive to acquire jobs or contribute to the tax base.
No wonder Canada doesn't want to emulate that policy.
Advertisement - story continues below
This article appeared originally on The Western Journal.
Truth and Accuracy
We are committed to truth and accuracy in all of our journalism. Read our editorial standards.
Comment Down Below
Conversation