Commentary
Biden Destroyed As CNN Talks Disapproval Ratings: 'Very, Very, Very, Very, Very Bad Number'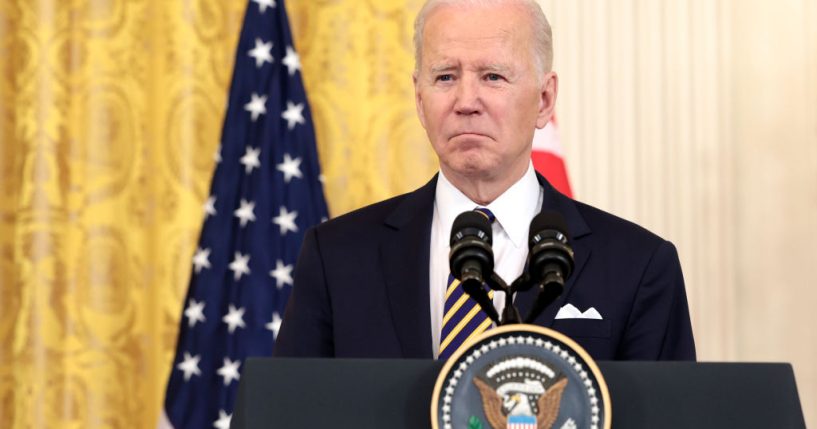 President Joe Biden and the Democrats are facing some serious headwinds heading into the 2022 midterms if Americans' views of his handling of inflation do not improve.
CNN's senior data reporter Harry Enten displayed a graphic of the average yearly changes in gas prices at this same point in previous midterm cycles during a segment on Wednesday.
It showed that gas prices as of Wednesday were up 53% from the same time last year.
Advertisement - story continues below
Meanwhile, in 2006, at this point, gas prices were up 37% from the previous year. And in 2010, gas prices were up 8% from the previous year.
Enten noted that in both the 2006 and 2010 midterms, there were "major gains for the opposition party."
Turning to the issue of inflation, Enten showed a poll that found just 28% of Americans approve of Biden's handling of inflation while 68% disapprove.
"Two-thirds of Americans disapprove of Joe Biden's job performance on inflation. And you know, that is a very, very, very, very, very bad number when what is the most urgent issue facing Americans? Look at that inflation," he said.
Advertisement - story continues below
Enten noted a Quinnipiac University poll from May that found that 33% of respondents said inflation is the most urgent issue, followed by abortion at 11%, election laws at 8%, and immigration at 7%.
He also pointed out that "historic numbers" of Americans believe the economy is "only fair" or "poor" or getting worse.
Watch the video below:
These are truly horrendous approval numbers for Biden going into the midterms.
Advertisement - story continues below
The president appeared to be either trying to set expectations low so he can claim a win if there is a massive turnaround in inflation and gas prices, or he was just stating what he thinks when he told reporters earlier this week, "The idea we're going to be able to click a switch, bring down the cost of gasoline, is not likely in the near term. Nor is it with regard to food."
According to NPR, price increases for gas and food are starting to put such a squeeze on Americans' finances that even those who are employed are turning to food banks for their groceries in more and more numbers.
Biden did not start the inflationary cycle we're in now. But he certainly didn't help it either by passing his $1.9 trillion COVID-19 spending package, which helped pump up demand as the country was trying to get back to normal after the pandemic.
And he seems to be unwilling to admit that his plan fueled inflation. Some economists estimate it added between two and four percentage points to price increases.
Advertisement - story continues below
One way to fight inflation is for the Federal Reserve to raise interest rates. But with that comes the risk that Federal Reserve doesn't pull off a so-called "soft landing" to tamp down inflation, it could send the U.S. into a recession.
Recessions generally lead to a reduction in prices as demand plummets due to decrease economic activity. Of course, another economic downturn is not good news for America or Biden.
Fighting inflation is a tough balancing act that Biden does not have much control over when it comes to the Fed due to the independence it is supposed to enjoy. For Biden, the damage is done, and there is little for him to do to fight inflation.
If inflation is hovering near 40-year-highs or the country is heading into a recession running up to November, it will likely be a bloodbath for Democrats on the ballot.
Advertisement - story continues below
Then Biden will have a choice: He can lash out and attack Republicans for not approving his liberal spending wishlists, or he can try to tack to the center and genuinely try to find bipartisan solutions to issues facing America.
Truth and Accuracy
We are committed to truth and accuracy in all of our journalism. Read our editorial standards.
Comment Down Below
Conversation