News
Biden Has 'Complete Confidence' in Milley After Report He Vowed Alert China To an Attack, Psaki Says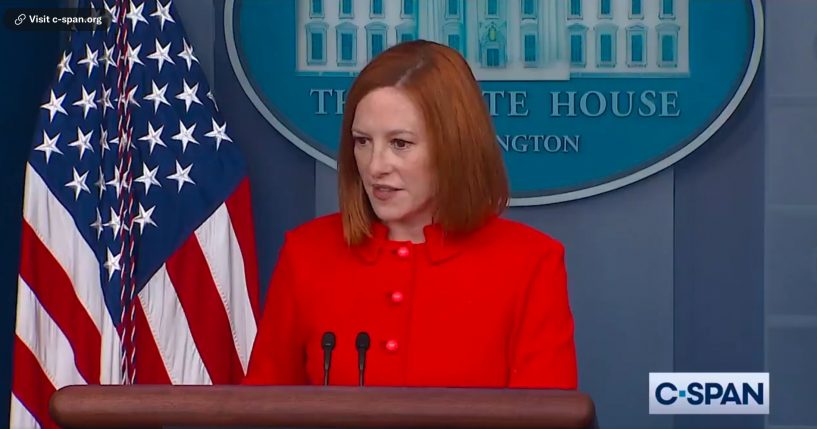 President Joe Biden has "complete confidence" in Gen. Mark Milley, the chairman of the Joint Chiefs of Staff, after a new book revealed that he reached out to his Chinese counterpart to assure them the former president would not launch a strike against China.
During a press conference on Wednesday, a reporter noted that a spokesperson for the Joint Chiefs of Staff did not deny the report and asked White House Press Secretary Jen Psaki, "Does the president feel these calls were appropriate? Does he have confidence in the chairman? And some Republican senators have called for the chairman to be dismissed. Is he going to keep his job?"
"I'm not going to add or speak to anonymous reports, unconfirmed reports about conversations with limited context," Psaki responded. "But what I can assure you all of is that the president knows Gen. Milley. He has been chairman of the Joint Chiefs for almost eight months of his presidency. They've worked side-by-side through a range of international events. The president has complete confidence in his leadership, his patriotism, and his fidelity to our Constitution."
Advertisement - story continues below
She continued, "Since you gave me the opportunity, I just wanted to add, I think it's important to consider some of the key context of this time in history that we're discussing and is outlined or covered in portions of this book. The outgoing president of the United States during this period of time fomented unrest leading to an insurrection and an attack on our nation's Capitol on Jan. 6."
"Beyond reports in this book, there's been widespread reporting and commentary from members of his own Cabinet, the former president's Cabinet I should say, including high-ranking national security officials questioning the former president's stability, his behavior, and his suitability to oversee the national security of the United States. So those are important questions that need to be discussed as well," Psaki added.
Watch the video below:
.@PressSec on Gen. Milley: "The president has complete confidence in his leadership, his patriotism and his fidelity to our Constitution."

Full video here: https://t.co/hxMItNIke6 pic.twitter.com/5jdmGIH4n8

— CSPAN (@cspan) September 15, 2021
Advertisement - story continues below
An excerpt of the new book "Peril" by Bob Woodward and Robert Costa of The Washington Post, revealed that Milley was so concerned that former President Donald Trump would start a war with China that he contacted his Chinese counterpart to assure them that the U.S. could not conduct a strike.
As the Post reports, "In the book's account, Milley went so far as to pledge he would alert his counterpart in the event of a U.S. attack, stressing the rapport they'd established through a backchannel. 'General Li, you and I have known each other for now five years. If we're going to attack, I'm going to call you ahead of time. It's not going to be a surprise.'"
Do you think Milley should keep his job?
Additionally, after Jan. 6, Milley told his counterpart, "We are 100 percent steady. Everything's fine. But democracy can be sloppy sometimes."
In a statement on Wednesday, Joint Staff spokesman Col. Dave Butler defended Milley, saying he "regularly communicates with Chiefs of Defense across the world, including with China and Russia."
"These conversations remain vital to improving mutual understanding of U.S. national security interests, reducing tensions, providing clarity, and avoiding unintended consequences or conflict," the statement added.
Truth and Accuracy
We are committed to truth and accuracy in all of our journalism. Read our editorial standards.
Comment Down Below
Conversation