News
Biden Declines to Take Questions From Reporters Because They Will 'Ask Me All About Russia'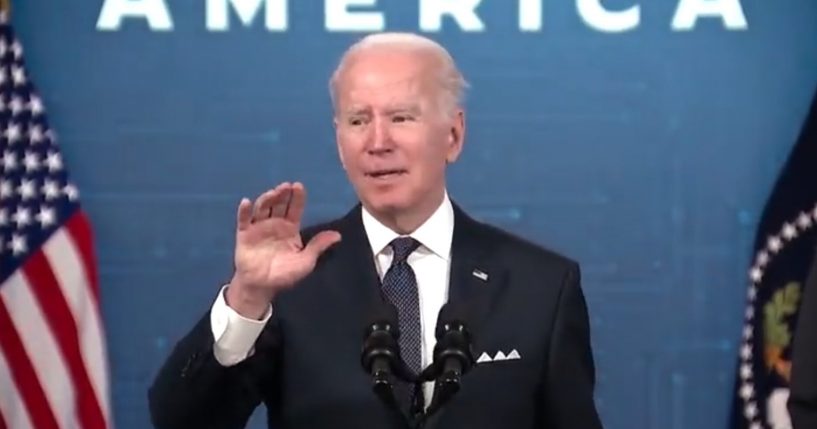 President Joe Biden declined to take questions from reporters over concerns that they would focus on fears of a Russian invasion of Ukraine.
At an event addressing his administration's efforts to boost the supply of semiconductors, Biden said, "By the way, the reason we're not going to have any time for questions now is these guys gotta get quickly on a plane and go out and do a major announcement in Ohio."
He added, "And you guys will ask me all about Russia and not about anything having to do with chips."
Advertisement - story continues below
Watch the video below:
Biden says that he won't take questions because "you guys will ask me all about Russia and not about anything having to do with chips." pic.twitter.com/40cOZEJTxJ

— Townhall.com (@townhallcom) January 21, 2022
Russia currently has amassed roughly 100,000 on Ukraine's borders, which has sparked concerns about a potential invasion of the European nation.
During a nearly two-hour press conference earlier this week, Biden fielded several questions about how the U.S. would respond if Russia invaded Ukraine.
Advertisement - story continues below
In answering one question, the president sparked confusion when he vowed that Russia would be "held accountable" if it invades.
However, he added, "It's one thing if it's a minor incursion and we end up having to fight about what to do and not to do."
He also predicted that Russia would "move in" to Ukraine.
A Ukrainian official told CNN's Matthew Chance that Biden's comments gave the "green light to [Russian President Vladimir Putin] to enter Ukraine at his pleasure."
White House Press Secretary Jen Psaki sought to clarify Biden's comments in a statement as she said, "President Biden has been clear with the Russian President: If any Russian military forces move across the Ukrainian border, that's a renewed invasion, and it will be met with a swift, severe, and united response from the United States and our Allies."
Advertisement - story continues below
"President Biden also knows from long experience that the Russians have an extensive playbook of aggression short of military action, including cyberattacks and paramilitary tactics. And he affirmed today that those acts of Russian aggression will be met with a decisive, reciprocal, and united response," she added.
On Thursday, he laughed off a question about Russia and quipped, "What a stupid question."
Biden has previously criticized reporters for asking questions that are not "on point" with the subject he was discussing in the moment.
Truth and Accuracy
We are committed to truth and accuracy in all of our journalism. Read our editorial standards.
Comment Down Below
Conversation