News
Biden Denies Report of Plan to Pay Migrant Families Separated Under Trump Admin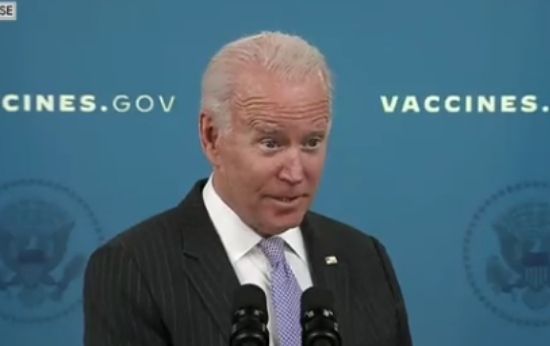 President Joe Biden is calling reports "garbage" that his administration is planning to pay a whopping sum to migrant families separated under the Trump administration.
"Do you think that that might incentivize more people to come over illegally?" Fox News' Peter Doocy asked the president on Wednesday.
The president responded to the reports, telling reporters, "That's not going to happen."
Advertisement - story continues below
He called the reporting "garbage" and "not true."
Watch Biden's remarks below:
"That's not going to happen": President Biden says reports that his administration is considering paying $450,000-per-person to migrant families separated under the Trump administration are "garbage" and "not true" pic.twitter.com/gkTBFJauGN

— CBS News (@CBSNews) November 3, 2021
His remarks come after reports that the administration is considering paying migrant families separated under the previous administration roughly $450,000 per person. The Wall Street Journal first reported on it last week.
Advertisement - story continues below
The reported potential payments "could amount to close to $1 million a family, though the final numbers could shift," the paper reported at the time.
Republicans slapped down the idea after the report came out.
Rep. Jim Jordan (R-Ohio) told Fox News, "You're going to pay people half a million dollars who broke the law at the same time the administration is getting ready to raise taxes on the hard-working families of this country," adding, "It makes absolutely no sense."
Rep. Dan Crenshaw (R-Texas) tweeted on Oct. 28, "Biden wants to pay illegal immigrants $450,000 for their hardship while breaking our laws. For perspective, if a service member is killed in action, their next of kin gets an insurance payment of $400,000. Let that sink in."
Additionally, Senate Minority Leader Mitch McConnell (R-Ky.) said on the Senate floor earlier this week, "Honestly, this absurd idea feels like a satirical policy proposal that Republicans would have invented to make a parody out of the radical left."
Advertisement - story continues below
In a letter to Biden,  Sen. Chuck Grassley (R-Iowa) and 10 other Republicans wrote, "[R]ewarding illegal immigration with financial payments runs counter to our laws and would only serve to encourage more lawlessness at our border. To that end, I ask that your administration refuse to issue any settlement payments for aliens who broke our laws."
According to the most recent report by Interagency Task Force on the Reunification of Families, there are nearly 4,000 children separated from their families under the Trump administration that have been identified by the Biden administration, as ABC News reports.
The outlet adds, "The task force has reunified 50 families, with 50 more in the process of being reunified. About 2,100 more were reunified under court orders with the help of nongovernmental organizations. As of September, the task force was aware of 1,727 children who had still not been reunited with their parents."
Truth and Accuracy
We are committed to truth and accuracy in all of our journalism. Read our editorial standards.
Comment Down Below
Conversation