News
Watch: Biden Economic Adviser Dodges When Asked if Manchin's Warning About Spending Was 'Right'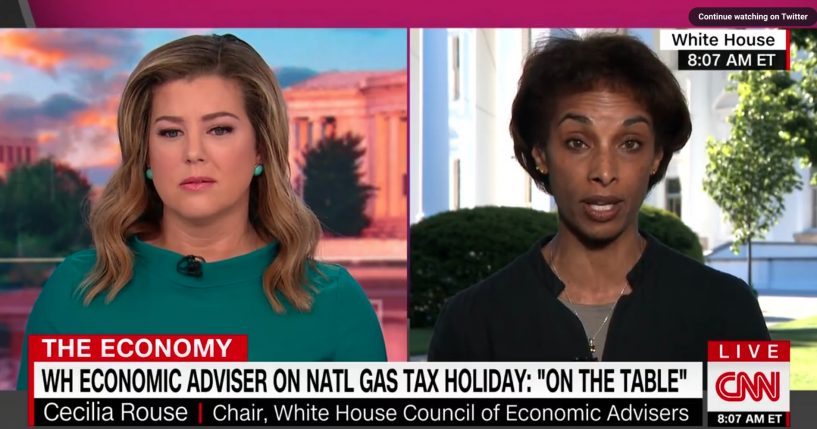 The chair of the White House Council of Economic Advisers, Cecilia Rouse, is declining to say whether Sen. Joe Manchin (D-W.Va.) was "right" to raise concerns that high levels of federal spending could fuel inflation.
CNN's Brianna Keilar asked Rouse on Tuesday morning, "Looking back, were Larry Summers and Joe Manchin right about spending and inflation?"
"I'm not sure what the 'right' is," Rouse responded.
Advertisement - story continues below
She went on, "What we have here is an economy that's recovering from a pandemic. The downturn was caused by the pandemic where we had to basically power down our economy until we had therapeutics and the vaccinations and the shots into arms…"
Keilar interjected, "They warned that the spending levels — which, of course, I understand the White House and you consider very necessary for the situation that the economy and that the pandemic was in — that it would cause inflation of maybe a higher level than certain people including at the White House were expecting."
She asked again, "Were they right?"
"What we've seen is that all advanced countries are trying to address inflation, and they have historic levels of inflation. That has been the consequence of mounting an effective response to the pandemic," Rouse said.
Advertisement - story continues below
She added, "Because while we supported households and businesses, got shots into arms — which allowed people to start to come out of their homes and regain their lives — our supply chains could not support this demand. We are not alone."
Watch the video below:
Do you think Manchin was right?
Biden to announce inflation plan as gas prices hit new record today. WH Council of Econ Advisors Chair @CeciliaERouse tells us:
– National gas tax holiday is "on the table"
– "Possible" Biden may end Trump-era tariffs on China
– The US is not in a recession pic.twitter.com/U5YtCjsozH

— Brianna Keilar (@brikeilarcnn) May 10, 2022
In Feb. 2021, Larry Summers, an Obama-era economic adviser, claimed that President Joe Biden's $1.9 trillion American Rescue Plan could fuel inflation to a level "we have not seen in a generation."
"I think this is the least responsible macroeconomic policy we've had in the last 40 years," he said on Bloomberg Television's "Wall Street Week" in Mar. 2021.
Advertisement - story continues below
Summers added, "I think fundamentally, it's driven by intransigence on the Democratic left and intransigence and completely unreasonable behavior on the whole of the Republican party."
Meanwhile, Manchin repeatedly raised concerns about inflation during negotiations over Biden's Build Back Better Act last year.
In a lengthy statement in April, Manchin reacted to data from the Labor Department, which found that inflation hit 8.5% in March compared to the same month last year, the highest rate since Dec. 1981.
"Let me be clear, inflation is a tax and today's historic inflation data tells another chilling story about how these taxes on Americans are completely out of control," Manchin said.
Advertisement - story continues below
He added, "When will this end? It is a disservice to the American people to act as if inflation is a new phenomenon. The Federal Reserve and the Administration failed to act fast enough, and today's data is a snapshot in time of the consequences being felt across the country."
Truth and Accuracy
We are committed to truth and accuracy in all of our journalism. Read our editorial standards.
Comment Down Below
Conversation