News
Biden Repeats False Story 2nd Time in a Week, Marking the 5th Time in His Presidency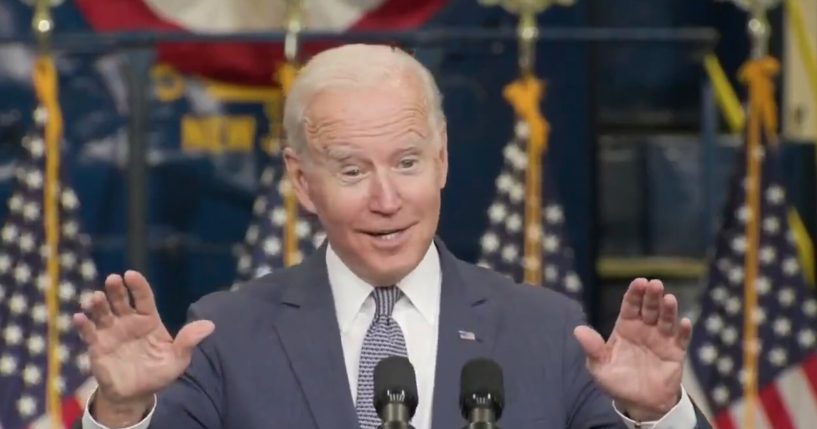 President Joe Biden is continuing to share a debunked story about an exchange with a former Amtrak conductor.
During an event in New Jersey on Monday, Biden revived the story as he noted he used to commute on Amtrak every day since he was first elected senator. He added that he would take the train while he was vice president.
The story involves an exchange with former Amtrak conductor, Angelo Negri, that allegedly occurred while he was vice president.
Advertisement - story continues below
"Ang walks up to me. 'Joey, baby!' Grabs my cheek, and I thought the Secret Service was going to blow his head off. Swear to God, true story. I said, 'No, no, he's a friend," the president said.
He continued:
"He said, 'Joey, I read in the paper you traveled 1,200,000 miles on Air Force planes.' Because they keep meticulous tabs. I said, 'Yeah.' He said, 'Big deal…You know how many miles you traveled on Amtrak, Joey?' And I said, 'No.' He said, 'The boys and I figured it out at the retirement dinner…You traveled 2,200,000 miles.' I said, 'How'd you get that Ang?' He said, 'Well, 267 miles a day. We figured you traveled 119 days a year for 36 years. Then you traveled as vice president. So, Joey, I don't want to hear this about the Air Force anymore."
"I'm a train guy," Biden added.
Advertisement - story continues below
Watch the video below:
Joe Biden tells false story of Amtrak worker congratulating him on traveling 2.2 million miles on the train.

The only problem is that the worker retired in 1999 and died in 2014 pic.twitter.com/bLCvj6CkBk

— The First (@TheFirstonTV) October 25, 2021
Biden now has told the story five times since taking office. However, according to CNN's fact-checker Daniel Dale, "The story could not possibly be true."
"Biden's account simply does not add up. Biden did not reach the million-miles-flown mark as vice president until September 2015, according to his own past comments. But Negri retired from Amtrak in 1993 and died in May 2014, according to an obituary published online and in the Asbury Park Press, a New Jersey newspaper," Dale said.
In a different version of the story, "Biden claimed that the exchange with Negri had occurred during the 'fourth or fifth year' of his vice presidency, which ran from early 2009 to early 2017. Again, Biden did not hit the million-miles-flown mark as vice president until he had been in the office for more than six-and-a-half years, at which point Negri was deceased."
Advertisement - story continues below
Dale suggested it is possible that Biden is "remembering the details of some real conversation he had with Negri prior to Negri's death in 2014. Or Biden could have been mixing up Negri with another Amtrak conductor he spoke to in 2015 or 2016."
Biden most recently revived the story last week, marking the fourth time of his presidency that he shared it.
Truth and Accuracy
We are committed to truth and accuracy in all of our journalism. Read our editorial standards.
Comment Down Below
Conversation