Commentary
Biden Lashes Out at GOP After Abortion Bill Fails – Leaves Out 1 Important Factor About the Vote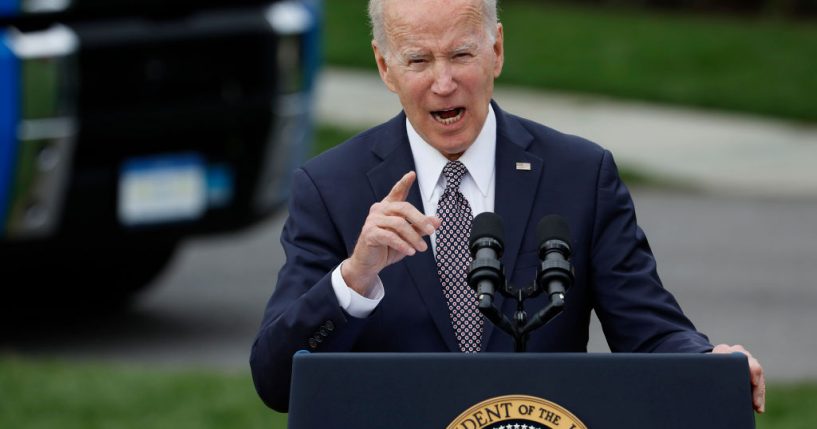 President Joe Biden is expressing his frustration with Congressional Republicans for voting against the Women's Health Protection Act (WHPA), which is designed to protect access to abortion.
On Wednesday, the WHPA failed to pass the chamber in a 49-51 vote.
THE SENATE has blocked on the abortion bill.

49-51

— Jake Sherman (@JakeSherman) May 11, 2022
Advertisement - story continues below
In a statement shortly after the vote, Biden said, "Once again – as fundamental rights are at risk at the Supreme Court – Senate Republicans have blocked passage of the Women's Health Protection Act, a bill that affirmatively protects access to reproductive health care."
"This failure to act comes at a time when women's constitutional rights are under unprecedented attack – and it runs counter to the will of the majority of American people," he continued.
Biden then took aim at Republicans:
"Republicans in Congress – not one of whom voted for this bill – have chosen to stand in the way of Americans' rights to make the most personal decisions about their own bodies, families and lives."
Advertisement - story continues below
He added, "To protect the right to choose, voters need to elect more pro-choice senators this November, and return a pro-choice majority to the House. If they do, Congress can pass this bill in January, and put it on my desk, so I can sign it into law."
Read the statement below:
Biden has released a statement on the Senate's failure to pass the bill to protect abortion rights: "This failure to act comes at a time when women's constitutional rights are under unprecedented attack."

This is yet another WH statement where the word "abortion" is not used. https://t.co/uDdyEwQvA1 pic.twitter.com/eFCbQo5njg

— Oriana González (@OrianaBeLike) May 11, 2022
Notably absent from the president's statement was the fact that Republicans were not the only ones who helped doom the bill.
Even if the Senate filibuster was not in place, the bill would likely still have failed as Sen. Joe Manchin (D-W.Va.) voted in opposition to the bill — depriving Democrats of even a 50-50 vote.
Advertisement - story continues below
In fact, the words 'Democrat' and 'Democrats' do not even appear in that statement.
And the House narrowly passed the bill, with Rep. Henry Cuellar (D-Texas) breaking ranks to oppose the legislation in September.
Manchin explained that he voted against it — not because it was doomed to fail because of the filibuster — but because it went too far.
"The bill we have today to vote on, the Women's Health Protection Act, and I respect people who support it, but make no mistake: it is not Roe v. Wade codification. It's an expansion," Manchin told reporters Wednesday.
Advertisement - story continues below
He continued, "It wipes 500 state laws off the books. It expands abortion. And with that that's not where we are today. We should not be dividing this country further than we're already divided. And it's really the politics of Congress that's dividing the country. It's not the people, they're telling us what they want."
As NPR explained, the bill would "protect a person's ability to decide to continue or end a pregnancy and would enshrine into law health care providers' ability to offer abortion services 'prior to fetal viability' without restrictions imposed by individual states, like requiring special admitting privileges for providers or imposing waiting periods.
It would additionally "prohibit restrictions on abortion after fetal viability 'when, in the good-faith medical judgment of the treating health care provider, continuation of the pregnancy would pose a risk to the pregnant patient's life or health.'"
Try as Biden might to blame Republicans exclusively for the bill's failure, it's hard — and disingenuous — to blame the party out of power when you can't even keep your whole party on board.
Truth and Accuracy
We are committed to truth and accuracy in all of our journalism. Read our editorial standards.
Comment Down Below
Conversation