News
Biden Laughs When Asked How He Will Get Dems To Support Infrastructure Plan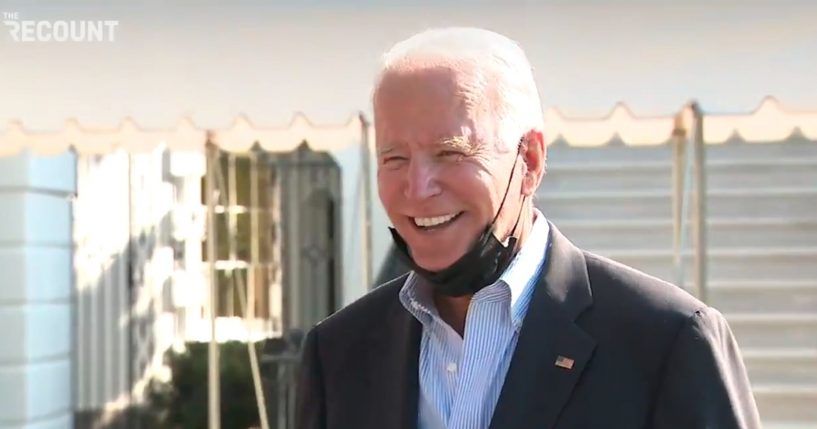 President Joe Biden is confident Congressional Democrats will pass his infrastructure package despite disputes between the progressive and moderate wings of the party.
As he spoke to reporters before departing the White House on Tuesday, Biden was asked, "How are you going to get Democrats to agree on it?"
The president chuckled, then asked, "Is the sun gonna come out tomorrow?"
Advertisement - story continues below
Watch the video below:
President Biden on how he'll get Democrats to agree on infrastructure changes: "Is the sun gonna come out tomorrow?" pic.twitter.com/5gCj48lEmN

— The Recount (@therecount) September 7, 2021
Biden's comments come as Congressional Democrats are hoping to pass a $1.2 trillion bipartisan infrastructure package and a larger $3.5 trillion spending package.
However, with narrow majorities in the House and Senate, there is little room for defections, and both progressives and moderates are at odds over the two packages.
Advertisement - story continues below
As NBC News reports, "The intraparty fighting is over legislation that, for the most part, Democrats agree they should pass. But the order in which the bills move through Congress has become a battle between moderates and progressives, who are jockeying to maximize their leverage to shape both bills."
Progressives have threatened to block the smaller bipartisan bill if the larger spending bill which expands social services and addresses climate change is not passed.
Do you think Congress should pass both bills?
Meanwhile moderates suggest the House should passed the bipartisan bill and debate the larger spending package separately.
The Senate passed the bipartisan bill in July but has yet to take up the reconciliation bill. The House has not passed either bill yet.
Democrats are hoping to use a process known as budget reconciliation in the Senate to pass the larger spending package with just 51 votes with Vice President Kamala Harris casting the tie breaking vote. That would require every Democratic senator to vote for it.
Advertisement - story continues below
However, Sens. Kyrsten Sinema (D-Ariz.) and Joe Manchin (D-W.Va.) have said they oppose a spending bill with a $3.5 trillion price tag.
But Rep. Alexandria Ocasio-Cortez (D-N.Y.) said, "We have made the stand and we said, 'We will tank the bipartisan infrastructure bill unless we also pass the reconciliation bill.'"
"And so it goes both ways right? If Manchin and in the Senate, if they approve our reconciliation bill, we will approve their bipartisan bill. And if they try to strip immigration reform, if they try to claw back on childcare, climate action, etc., then we're at an impasse. It's a no-go," she added.
Truth and Accuracy
We are committed to truth and accuracy in all of our journalism. Read our editorial standards.
Conversation