News
Biden Views Manchin's Voting Rights Compromise as a 'Step Forward': Psaki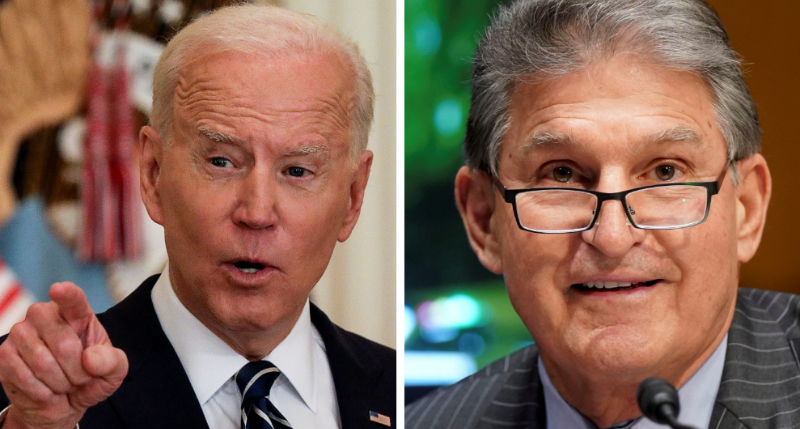 President Joe Biden is "appreciative" of Sen. Joe Manchin's (D-W.Va.) work on his proposed voting rights compromise.
During a press briefing on Monday, White House Press Secretary Jen Psaki was asked about Manchin's proposal. She responded, "It's a step forward. We don't expect there to be a magical 10 votes, but just two weeks ago, there were questions about whether Democrats would be aligned. We certainly hope that will be the case tomorrow."
"This has been a 60-year battle to make voting more accessible, more available to Americans across the country. And our effort, the president's effort to continue that fight doesn't stop tomorrow at all. This will be a fight of his presidency," she continued.
Advertisement - story continues below
Watch the video below:
Psaki says the White House is not expecting "a magical 10 votes" from Republicans to pass the For The People Act this week, but Biden's push for election reform won't stop after the Senate vote: "This will be a fight of his presidency" https://t.co/Nj065CIsxp pic.twitter.com/j7VW6fTwTR

— CBS News (@CBSNews) June 21, 2021
Her comments come after the West Virginia senator unveiled changes to voting laws that he could support following his announcement that he would oppose Democrats' sweeping election reform bill, the For the People Act.
According to the Brennan Center, the For the People Act would "make it easier to vote in federal elections, end congressional gerrymandering, overhaul federal campaign finance laws, increase safeguards against foreign interference, strengthen government ethics rules, and more."
Advertisement - story continues below
The bill would require states to automatically register voters for federal elections, offer same-day registration, require states to send out mail-in ballots to at voters at least 60 days before Election Day, and requires states with voter identification requirements to let people cast ballots if "they complete a sworn written statement attesting to their identity."
The bill is seen as being held up by Manchin who came out against the bill earlier this month as he noted the lack of bipartisan support for it.
He later released a series of voting proposals he could support including making Election Day a public holiday, providing 15 consecutive days of early voting, and automatic voter registration. Additionally, the lawmaker said he would back requiring voter identification but added that he would support letting voters use alternative forms of identification such as a utility bill.
Psaki addressed Manchin's proposal, "As compromises happen, it means there's a lot that you like about it, and it may not be everything you love but [Biden] certainly sees this as a step forward."
WH Press Sec. Jen Psaki says President Biden views the voting rights compromise as a "step forward":

"He certainly is appreciative of the efforts by Sen. Manchin and others to continue to make progress on voting rights." pic.twitter.com/BqnKvALQiT

— The Recount (@therecount) June 21, 2021
Advertisement - story continues below
"And as Stacey Abrams said over the weekend, incremental steps forward in making voting rights more accessible, making voting more available is a good thing," she added.
Truth and Accuracy
We are committed to truth and accuracy in all of our journalism. Read our editorial standards.
Conversation