News
Biden Announces New Spending Framework – Slashes Nearly $2 Trillion From Original Price Tag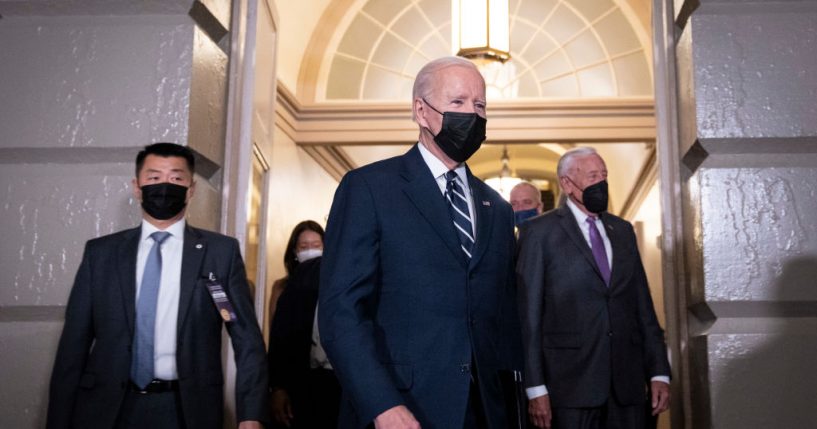 President Joe Biden says Congressional Democrats have reached an agreement on the framework for his Build Back Better Act after weeks of negotiations.
According to details released by the White House, the new package costs $1.75 trillion and includes provisions to provide universal preschool, access to "high quality" child care, provide affordable home-care for elderly Americans and individuals with disabilities, extend the Child Tax Credit for one year "with monthly payments for households earning up to $150,000 per year."
It also provides roughly $550 billion for investments in clean energy and efforts to combat climate change.
Advertisement - story continues below
Additionally, it extends the Affordable Care Act's premium tax credits and creates a hearing benefit for Medicare.
The framework also includes investments in affordable housing, and a provision to "reduce costs and expand access to education beyond high school by raising the maximum Pell grant." The framework provides investments for workforce development such as "community college workforce programs, sector-based training, and apprenticeships."
It also includes $90 billion for "targeted investments including maternal health, community violence initiatives, Native communities, disadvantaged farmers, nutrition, pandemic preparedness, supply chain resilience, and other areas."
Finally, the framework has $100 billion for immigration reform.
Advertisement - story continues below
New — WH releases framework proposal, detailing what's in the $1.75T plan. https://t.co/gGah4JkVsE pic.twitter.com/x584XFdUZH

— Manu Raju (@mkraju) October 28, 2021
The framework also includes a series of provisions the White House says will raise "up to" $1.995 trillion in revenue.
They include a 15% minimum tax on large corporations, a tax on stock buybacks, a "corporate international reform" designed to "stop rewarding companies that ship jobs and profits overseas," and "IRS investments to close the tax gap."
In a statement, the White House said, "President Biden is confident this is a framework that can pass both houses of Congress, and he looks forward to signing it into law. He calls on Congress to take up this historic bill – in addition to the Bipartisan Infrastructure Investment and Jobs Act – as quickly as possible."
"This framework will guide the drafting of legislative language. When enacted, this framework will set the United States on course to meet its climate goals, create millions of good-paying jobs, enable more Americans to join and remain in the labor force, and grow our economy from the bottom up and the middle out," it added.
Advertisement - story continues below
The framework comes after weeks of negotiations and represents a large cut to Democrats' initially proposed $3.5 trillion spending bill.
Democrats are hoping to pass the spending package as well as a $1.2 trillion bipartisan infrastructure package. However, with slim majorities in both chambers, they have little room for defections.
Progressives have insisted that the spending package and infrastructure bill be passed at the same time. However, in the Senate, all 50 Democrats would have to vote for the spending package for it to pass the chamber.
Sens. Joe Manchin (D-W.Va.) and Kyrsten Sinema (D-Ariz.) have both said they opposed a spending package with a $3.5 trillion price tag.
Advertisement - story continues below
While the latest framework is much closer to the level of spending Manchin has signaled he could support, progressives say they want a firm commitment that the two senators will vote for the spending package before they agree to support the bipartisan infrastructure bill.
Truth and Accuracy
We are committed to truth and accuracy in all of our journalism. Read our editorial standards.
Comment Down Below
Conversation