News
Biden Claims Reporters 'Never' Ask Him a 'Positive Question': 'You've Gotta Be Negative'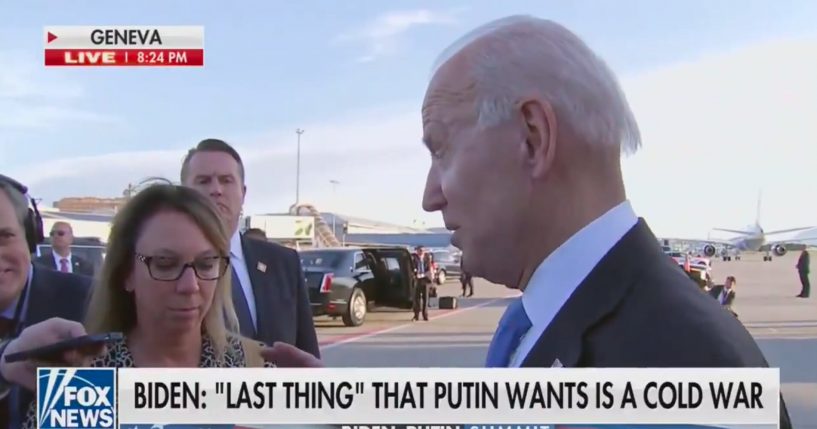 President Joe Biden insists that reporters only ask him "negative" questions.
Speaking to reporters before he boarded Air Force One on Wednesday, Biden said, "Look, to be a good reporter, you've got to be negative. You've got to have a negative view of life, it seems to me. You never ask a positive question."
His comments come after he had a testy exchange with reporters on whether he is confident that Russian President Vladimir Putin will change his behavior, as IJR reported.
Advertisement - story continues below
"We'll find out. We have an agreement to work on a major arms control agreement… We will see whether or not it happens… The thing that always amazes me about the questions, and I apologized for having been short on this before, if you were in my position would you say, 'Well, I don't think anything is going to happen. It's going to be really rough. I think it's really going to be bad.' You guarantee nothing happens," he said.
He added that he believes there is "a value to being realistic" but also being optimistic.
Watch the video below:
"Look, to be a good reporter, you've gotta be negative. You've gotta have a negative view of life, it seems to me … I apologize for having been short" — Biden on Kaitlan Collins's question and his response to it pic.twitter.com/2mHvKkPz7X

— Aaron Rupar (@atrupar) June 16, 2021
Advertisement - story continues below
Earlier in the day, Biden was asked why he is "so confident" Putin will change his behavior.
He shot back, "I'm not confident he'll change his behavior. What the hell? What do you do all the time? When did I say I was confident? What I said was… what will change their behavior is if the rest of the world reacts to them and diminishes their standing in the world."
CNN's Kaitlan Collins asked him, "Given his past behavior has not changed and in that press conference… he denied any involvement in cyberattacks, he downplayed human rights abuses, he even refused to say Alexei Navalny's name. How does that account to a constructive meeting?"
"If you don't understand that, you're in the wrong business," Biden quipped.
He later apologized to Collins as he said, "I owe my last question an apology. I shouldn't have been such a wise guy."
Advertisement - story continues below
While Biden bemoaned what he views as negative questions, a Pew Research study of his first 60 days in office found that he has received less negative coverage than former President Donald Trump, former President Barack Obama, former President George W. Bush, and former President Bill Clinton during the same time frame.
The study found that stories about Biden from outlets with conservative audiences were 78% negative, while those with "mixed" audiences were 24% negative. Additionally, stories from outlets with "left-leaning" audiences were 19% negative.
Truth and Accuracy
We are committed to truth and accuracy in all of our journalism. Read our editorial standards.
Comment Down Below
Conversation