News
Biden Reveals Whether He Would Have Withdrawn US Troops From Afghanistan Without Trump's Agreement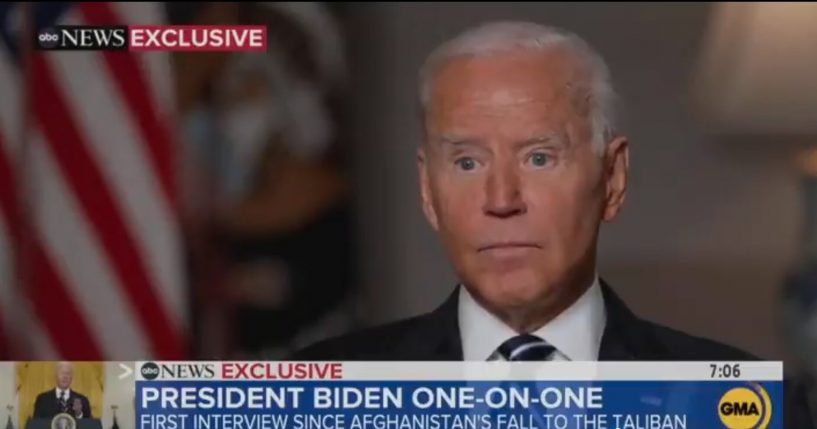 President Joe Biden defends his decision to withdraw U.S. troops from Afghanistan in part by claiming that his predecessor negotiated an agreement with the Taliban that forced him to choose between staying or leaving.
He has argued that he would have had to deploy thousands of more troops to the country if the U.S. stayed.
But during an interview with ABC News' George Stephanopolous, the president was asked if he would have withdrawn from Afghanistan if former President Donald Trump's administration had not made the agreement with the Taliban to withdraw troops.
Advertisement - story continues below
"I would have tried to figure how to withdraw those troops, yes," Biden said.
He continued, "Because look, George, there is no good time to leave Afghanistan. Fifteen years ago would've been a problem, 15 years from now. The basic choice is am I gonna send your sons and your daughters to war in Afghanistan in perpetuity?"
Watch the video below:
Biden claims his military advisers didn't warn against a hasty withdrawal: "No, no one said that to me that I can recall." pic.twitter.com/utKh7ODpSc

— Tom Elliott (@tomselliott) August 19, 2021
Advertisement - story continues below
"No one can name for me a time when this would end. And what constitutes defeat of the Taliban? What constitutes defeat? Would we have left then? Let's say they surrender like before. OK. Do we leave then? Do you think anybody… the same people who think we should stay would've said, 'No, good time to go'? We spent over $1 trillion, George, 20 years. There was no good time to leave," he added.
Do you support withdrawing U.S. troops from Afghanistan?
Biden's comments come after the Taliban has taken over Afghanistan and as the U.S. is conducting a rushed evacuation of American personnel and allies from the country.
In remarks at the White House on Monday, Biden defended the withdrawal decision as he said, "When I came into office, I inherited a deal that President Trump negotiated with the Taliban."
"The choice I had to make, as your president, was either to follow through on that agreement or be prepared to go back to fighting the Taliban in the middle of the spring fighting season. There would have been no cease-fire after May 1… There was only the cold reality of either following through on the agreement to withdraw our forces or escalating the conflict and sending thousands more American troops back into combat," he added.
Advertisement - story continues below
While Biden admitted that the fall of Afghanistan unfolded "more quickly than we had anticipated" he argued that "the developments of the past week reinforced that ending military involvement in Afghanistan now was the right decision."
Truth and Accuracy
We are committed to truth and accuracy in all of our journalism. Read our editorial standards.
Comment Down Below
Conversation