News
Biden Rips Putin's 'Ridiculous Comparison' of Jan. 6 Rioters and Critics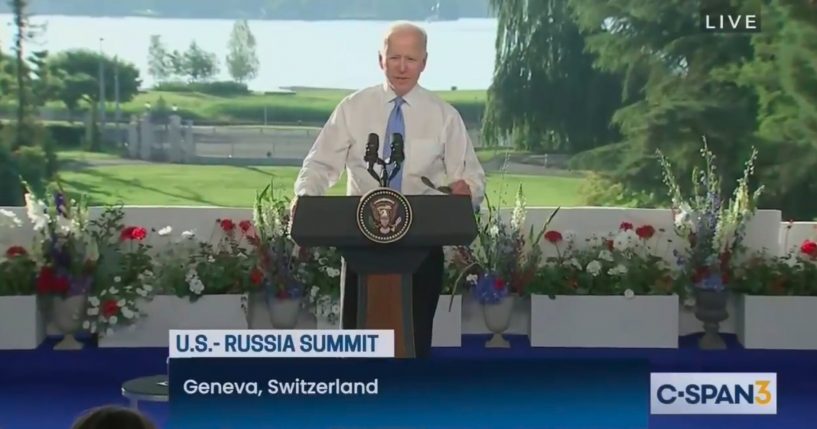 President Joe Biden is smacking down Russian President Vladimir Putin's comparison of the treatment of Jan. 6 rioters and Russia's treatment of protesters.
During a press conference after his meeting with the Russian president, Biden was asked about Putin's jailing of critics to crackdown on protest and his comparison to the treatment of Jan. 6 rioters.
"My response is kind of what I communicated, that I think that's a ridiculous comparison," Biden responded.
Advertisement - story continues below
"It's one thing for literally criminals to break through, go into the Capitol, kill a police officer and be held unaccountable, then it is for people objecting and marching on the capital to say you are not allowing me to speak freely, you are not allowing me to do A, B, C, or D. And so they're very different criteria," he added.
Watch the video below:
"That's a ridiculous comparison" — Biden on Putin's equivalence between Black Lives Matter in the US and the opposition in Russia pic.twitter.com/5kH73VPCUN

— Aaron Rupar (@atrupar) June 16, 2021
A reporter asked Putin during a separate press conference on Wednesday, "If all of your political opponents are dead, in prison, poisoned, doesn't that send a message that you do not want a fair political fight?"
Advertisement - story continues below
"On the question of who is murdering whom, people rioted and went into the Congress in the U.S. with political demands and many people were declared as criminals and they are threatened with imprisonment from 20 to 25 years." Putin responded.
He continued, "These people were immediately arrested after those events, on what grounds we don't know always. The states didn't actually inform us about that. One of the participants were just shot on the spot and unarmed as well. Many countries are going through exactly what we're going through."
"We feel sympathy for the United States of America, but we don't want that to happen on our territory. We're doing our utmost in order to not allow it to happen," he added.
Protesters stormed the U.S. Capitol on Jan. 6 as lawmakers met to certify Biden's electoral victory. As CBS News reports, about 465 people have been arrested in connection to the riot.
Putin also claimed that the rioters are facing "persecution for political opinions."
Advertisement - story continues below
His comments come as he is facing pressure over his treatment of political opponents and imprisonment of opposition leader Alexei Navalny and demonstrators who took to the streets to protest his arrest.
As ABC News notes, the protests following Nalvani's arrest were largely peaceful but unsanctioned, and that demonstrators did not break into government buildings.
Truth and Accuracy
We are committed to truth and accuracy in all of our journalism. Read our editorial standards.
Conversation