'Neanderthal Thinking': Biden Takes Aim at Texas, Mississippi for Lifting Mask Mandates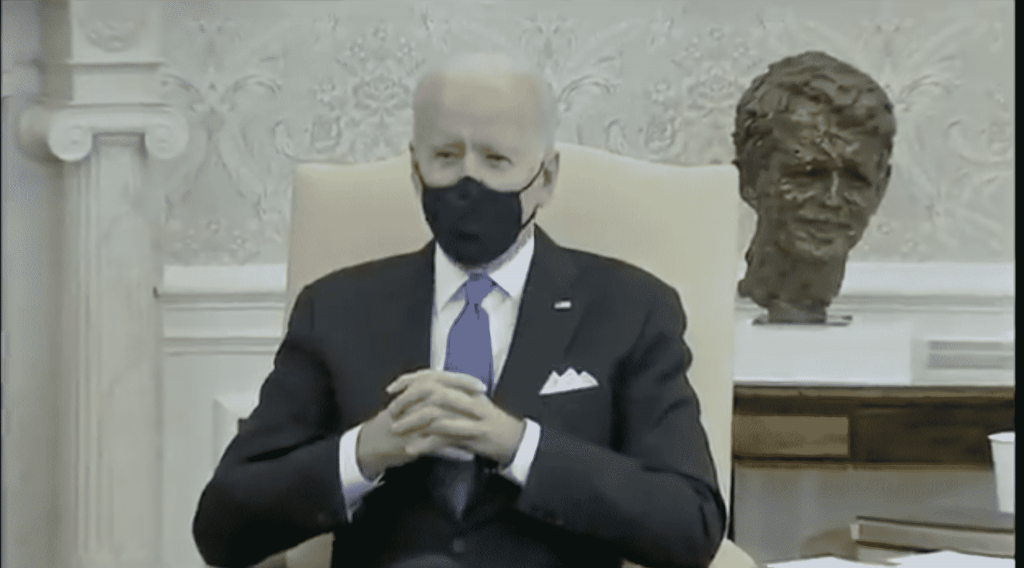 President Joe Biden says every adult in the country will be able to get a COVID-19 vaccine by the end of May. But in the meantime, he is warning state leaders against engaging in "neanderthal thinking."
Biden was asked by reporters what message he would send to Texas and Mississippi, two states that just announced plans to lift mask-wearing mandates.
He said, "I think it's a big mistake. Look, I hope everybody's realized by now these masks make a difference. We are on the cusp of fundamentally changing the nature of this disease because of the way in which we're able to get vaccines in peoples' arms."
"And the last thing, the last thing, we need is neanderthal thinking that 'in the meantime everything's fine, take off your mask, forget it.' It still matters," he said.
Watch the video below:
The governors of Texas and Mississippi announced on Tuesday that they would lift mask-wearing mandates and let businesses reopen at full capacity.
In a statement, Texas Gov. Greg Abbott (R) said, "We must now do more to restore livelihoods and normalcy for Texans by opening Texas 100 percent."
"Make no mistake, COVID-19 has not disappeared, but it is clear from the recoveries, vaccinations, reduced hospitalizations, and safe practices that Texans are using that state mandates are no longer needed," he added.
The lifting of the restrictions in Texas will go into effect on March 10.
Mississippi Gov. Tate Reeves (R) said, "Starting tomorrow, we are lifting all of our county mask mandates and businesses will be able to operate at full capacity without any state-imposed rules."
He added, "Our hospitalizations and case numbers have plummeted, and the vaccine is being rapidly distributed. It is time!"
The states' decisions to lift their coronavirus restrictions come as the U.S. has seen a steep decline in the number of new cases recorded per day.
The country added 57,789 cases on Tuesday, which is down from a high of the more than 300,000 cases that were recorded in early January.
Additionally, while the country has seen a steep drop in the number of new cases, Biden announced that the country will have enough doses of the coronavirus vaccine for every adult in the U.S. by the end of May.
"We're now on track to have enough vaccine supply for every adult in America by the end of May," Biden said. "Let me say that again. When we came into office, the prior administration had contracted for not nearly enough vaccine to cover adults in America. We rectified that. About three weeks ago, we were able to say we'll have enough vaccine supply for adults by the end of July."
He added, "That's progress. Important progress."