News
Biden Signs Bill Making Juneteenth a Federal Holiday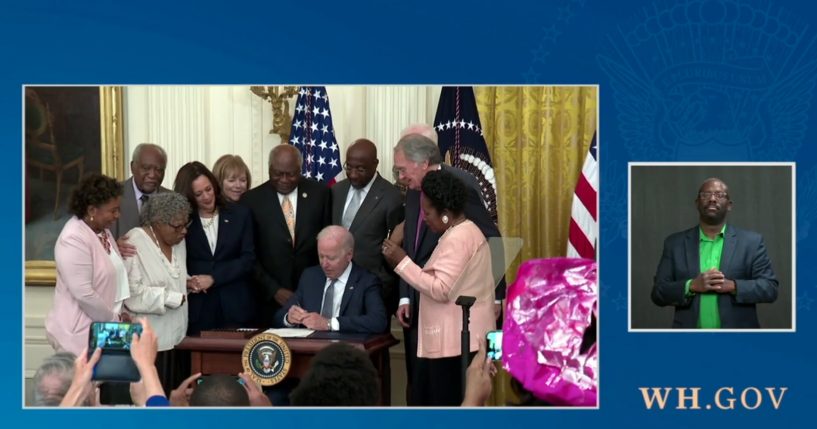 President Joe Biden signed legislation establishing Juneteenth as a federal holiday to commemorate the end of slavery in the U.S.
"Juneteenth marks both a long, hard night of slavery and subjugation and the promise of a brighter morning to come," Biden said at the signing ceremony on Thursday. "This is a day, in my view, of profound weight and profound power. A day in which we remember the moral stain, terrible toll that slavery took on the country and continues to take."
Vice President Kamala Harris said, "These are days when we as a nation have decided to stop and take stock. And often to acknowledge our history."
Advertisement - story continues below
Watch the video below:
Happening Now: President Biden signs the Juneteenth National Independence Day Act into law. https://t.co/5N5o66wTkG

— The White House (@WhiteHouse) June 17, 2021
As The New York Times reports, Juneteenth commemorates "June 19, 1865, about two months after the Confederate general Robert E. Lee surrendered at Appomattox, Va.," when Union general Gordon Granger "arrived in Galveston, Texas, to inform enslaved African-Americans of their freedom and that the Civil War had ended."
The name comes from combining June and 19.
Advertisement - story continues below
Earlier this week, Congress passed legislation making Juneteenth a federal holiday.
With Biden's signature, Juneteenth will become the first new federal holiday since 1983, when Martin Luther King Jr. Day was established as a holiday.
While June 19 is on a Saturday this year, NBC News reports that federal employees will observe the new holiday on Friday, June 18.
Truth and Accuracy
We are committed to truth and accuracy in all of our journalism. Read our editorial standards.
Conversation