News
Biden Issues Statement on Report About Leaked SCOTUS' Draft Decision on Abortion Case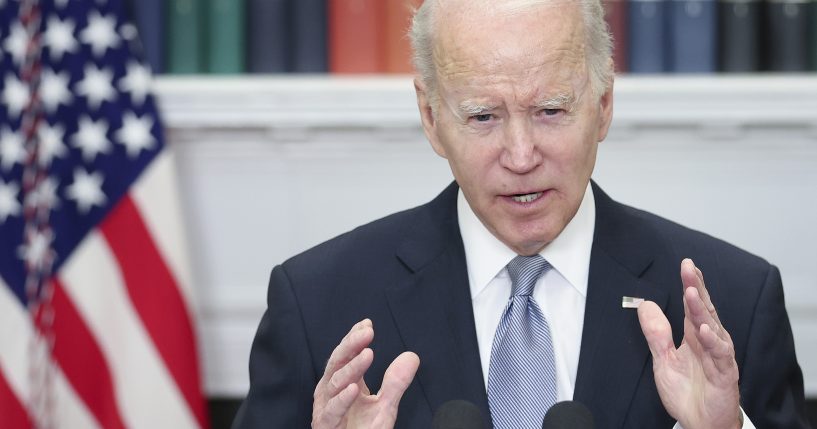 President Joe Biden is reacting to a reported leaked decision from the Supreme Court that could have wide-ranging implications for abortion access around the country.
In a statement Tuesday morning, Biden said, "We do not know whether this draft is genuine, or whether it reflects the final decision of the Court."
 
"With that critical caveat, I want to be clear on three points about the cases before the Supreme Court," he continued.
First, Biden noted, "My administration argued strongly before the Court in defense of Roe v. Wade... I believe that a woman's right to choose is fundamental, Roe has been the law of the land for almost fifty years, and basic fairness and the stability of our law demand that it not be overturned."
Advertisement - story continues below
"Shortly after the enactment of Texas law SB 8 and other laws restricting women's reproductive rights, I directed my Gender Policy Council and White House Counsel's Office to prepare options for an Administration response to the continued attack on abortion and reproductive rights, under a variety of possible outcomes in the cases pending before the Supreme Court," the statement continued.
Biden vowed, "We will be ready when any ruling is issued."
Read the statement below:
My statement on the reported Supreme Court decision draft. pic.twitter.com/Kt3bP0kzqU

— President Biden (@POTUS) May 3, 2022
Advertisement - story continues below
Additionally, the president said that if the Supreme Court does indeed overturn Roe v. Wade, "It will fall on our nation's elected officials at all levels of government to protect a woman's right to choose."
"And it will fall on voters to elect pro-choice officials this November. At the federal level, we will need more pro-choice Senators and a pro-choice majority in the House to adopt legislation that codifies Roe, which I will work to pass and sign into law," he added.
Do you think the U.S. needs more pro-choice senators?
Biden's statement comes after Politico published a report based on a leaked draft majority opinion that indicated the Supreme Court would overturn the landmark Roe v. Wade decision.
Justice Samuel Alito wrote in the draft opinion that was leaked.
It reads, "Roe was egregiously wrong from the start."
Advertisement - story continues below
"We hold that Roe and Casey must be overruled," Alito wrote. "It is time to heed the Constitution and return the issue of abortion to the people's elected representatives."
Underscoring the unprecedented nature of the leak, Politico noted, "No draft decision in the modern history of the court has been disclosed publicly while a case was still pending."
According to the outlet, justices Clarence Thomas, Neil Gorsuch, Brett Kavanaugh, and Amy Coney Barrett voted with Alito.
Meanwhile, justices Stephen Breyer, Sonia Sotomayor, and Elena Kagan dissented.
Advertisement - story continues below
Politico pointed out, "How Chief Justice John Roberts will ultimately vote, and whether he will join an already written opinion or draft his own, is unclear."
The outlet also noted, "Under longstanding court procedures, justices hold preliminary votes on cases shortly after argument and assign a member of the majority to write a draft of the court's opinion. The draft is often amended in consultation with other justices, and in some cases the justices change their votes altogether."
Truth and Accuracy
We are committed to truth and accuracy in all of our journalism. Read our editorial standards.
Comment Down Below
Conversation