News
Watch: Biden Struggles to Pronounce the Name of Port Director He Met with Ahead of Remarks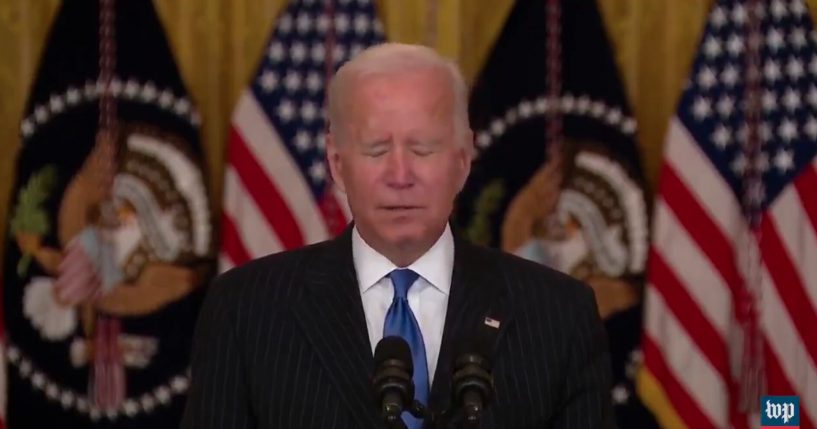 President Joe Biden struggled to pronounce the name of one of the industry leaders he met with earlier in the day to discuss ways to address bottlenecks in the supply chain.
During remarks at the White House on Wednesday, Biden said, "Today we have an important announcement that will get things you buy to you, to the shelves faster."
"I'm joined by the executive directors of the ports of Los Angeles and Long Beach, Gene Seroka," Biden said, adding, "And uh Mario… Mario Cordono…"
Advertisement - story continues below
He paused as he realized he mispronounced the second name, referring to Mario Cardero, who is the executive director of Long Beach port.
"I miss… I apologize, Mario," he added.
Watch the video below:
Biden stumbles as he tries to pronounce the name "Mario Cordero" pic.twitter.com/JYCgaLIA6D

— The Post Millennial (@TPostMillennial) October 13, 2021
Advertisement - story continues below
As of Wednesday, 500,000 containers were waiting to get into the Los Angeles port. Reuters explains that the supply chain bottleneck is "driven in part by the global COVID-19 pandemic, as sales of durable goods jumped amid worker shortages and transportation hub slowdowns."
Earlier on Wednesday, Biden announced that the Port of Los Angeles, the busiest port in the country, would begin operating 24/7 in a bid to address the supply chain disruptions.
White House Press Secretary Jen Psaki was asked if the administration could "guarantee that holiday packages will arrive in time."
"We are not the Postal Service or UPS or FedEx. We cannot guarantee. What we can do is use every lever at the federal government's disposal to reduce delays," Psaki responded.
She added, "To ensure that we are addressing bottlenecks in the system, including ports and the need for them to be open longer hours so that goods can arrive. And we can continue to press not only workers and unions but also companies to take as many steps as they can to address these delays."
Advertisement - story continues below
Correction [10/14/21, 7:15 a.m. ET]: Previously, this story inaccurately stated there were 500,000 container ships. We have corrected the error.
Truth and Accuracy
We are committed to truth and accuracy in all of our journalism. Read our editorial standards.
Comment Down Below
Conversation