News
Biden Televises Himself Getting Booster Shot of COVID-19 Vaccine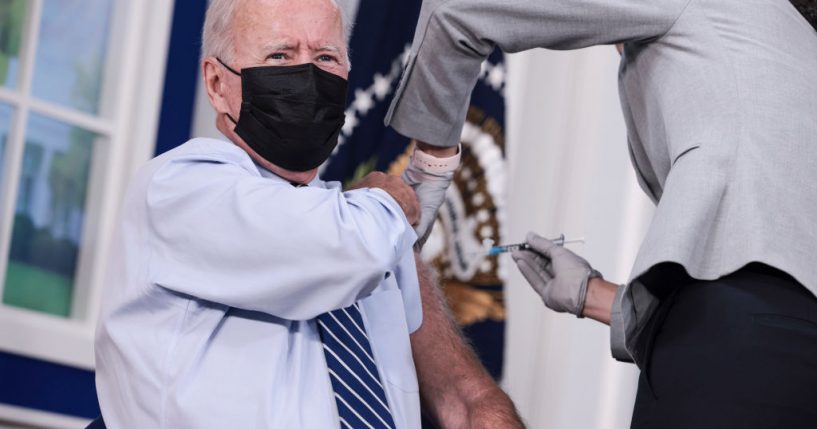 President Joe Biden received a booster shot of the COVID-19 vaccine on live TV just days after the Centers for Disease Control (CDC) recommended that three groups of people get a third dose of Pfizer's vaccine.
"I know it doesn't look like it, but I am over 65. Way over. And that's why I'm getting my booster shot today," Biden joked during an event at the White House before he got his booster shot.
He continued, "The bottom line is if you're fully vaccinated, and you're highly protected now from severe illness even if you get COVID-19, you're safe, and we're going to do everything we can to keep it that way with the boosters. But let me be clear, boosters are important, but the most important thing we need to do is get more people vaccinated."
Advertisement - story continues below
After encouraging Americans to get vaccinated, Biden received his booster shot on live TV.
Watch the video below:
WATCH: President Biden answers questions from White House reporters while he's receiving his COVID-19 vaccine booster shot.

He tells the press that he didn't have side effects from his previous shots and that first lady Jill Biden will also get a booster https://t.co/gLL0sRxmXL pic.twitter.com/YV7DyfS7JA

— CBS News (@CBSNews) September 27, 2021
The president said that First Lady Jill Biden will also receive a booster shot.
Advertisement - story continues below
Additionally, he defended the CDC recommending that millions of Americans get booster shots while the World Health Organization is urging wealthier countries to hold off on boosters to help poorer countries vaccinate their populations.
"We are doing more than every other nation in the world combined. We're going to have well over a billion, one hundred million shots and we're going continue going, we're going to do our part," Biden said.
Biden's comments referred to his announcement that the U.S. will donate 1 billion doses of Pfizer's COVID-19 vaccine to other countries.
On Friday, the CDC recommended that Americans 65 and older, or in the 50-64 year age range with underlying medical conditions, and residents of long-term care facilities over 18 get a booster shot.
The agency also recommended that people in the 18-49 age range get a booster if they have an underlying medical condition, as well as people in the 18-64 age range if they are "at increased risk for COVID-19 exposure and transmission because of occupational or institutional setting."
Truth and Accuracy
We are committed to truth and accuracy in all of our journalism. Read our editorial standards.
Conversation