Biden To Trump: 'You're the Worst President America Has Ever Had'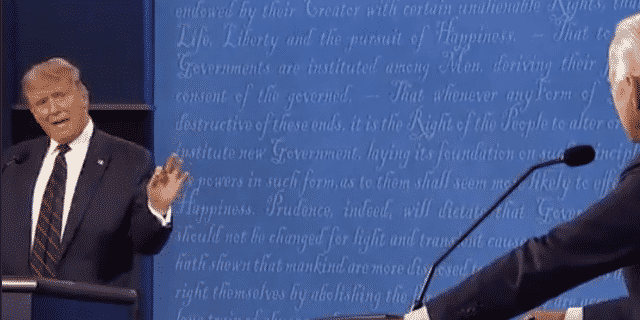 Democratic presidential nominee Joe Biden and President Donald Trump were not shy in expressing their distaste for one another during the first presidential debate in Ohio.
The president was confronted by Fox News' Chris Wallace during Tuesday night's debate about the recent reporting from The New York Times which states Trump paid $750 in federal income tax in 2016 as well as in 2017. The report also claims Trump did not pay income tax for 10 of the past 15 years. He was asked by the moderator if this reporting is true.
"I paid millions of dollars in taxes," the president shot back in refuting the report.
Biden then said, "Show us your tax returns," however, Trump said, "You'll see it as soon as it's finished."
The former vice president was later asked by Wallace if he wanted to respond.
It was not long though before Biden took a swing at Trump directly suggesting he was "screwing things up."
Biden added, "You're the worst president America has ever had."
Watch the video below:
"You're the worst president America has ever had," Joe Biden says to Pres. Trump, amid a heated argument over Pres. Trump's federal income taxes. https://t.co/5Bl4Ob3O2t #Debates2020 pic.twitter.com/lC4qX0RvNG

— ABC News (@ABC) September 30, 2020
Trump denied the Times report published on Sunday, as he said at a press conference this week, "That is fake news. It's totally fake news. Made up, fake."
Ahead of Tuesday night's debate, Biden and his running mate, Sen. Kamala Harris (D-Calif.), released their tax returns for 2019, as IJR reported.
"This is a historic level of transparency meant to give the American people faith once again that their leaders will look out for them and not their own bottom lines," Biden deputy campaign manager, Kate Bedingfield, said ahead of the debate. "Mr. President, release your tax returns or shut up."