Commentary
Biden Wanders Around Stage Alone As Dems Huddle With Obama at the WH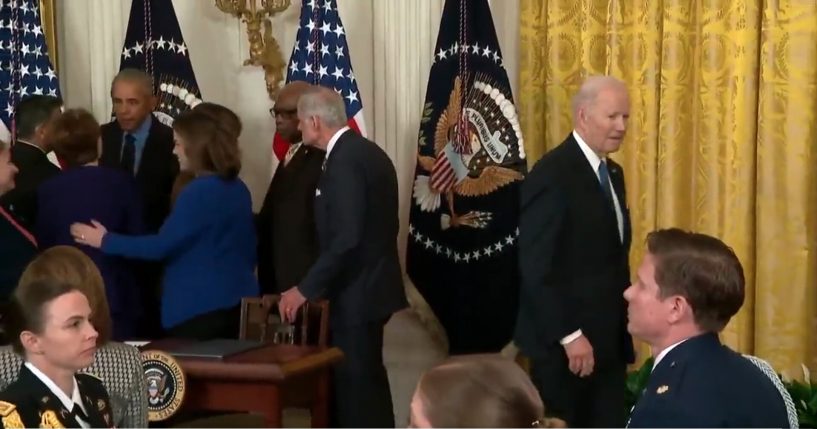 Former President Barack Obama made an appearance at the White House to commemorate the 2010 passage of the Affordable Care Act.
And President Joe Biden is receiving some attention from the event as well. But not for good reasons.
As the event wrapped up on Tuesday, the camera caught Biden wandering around the stage — something that has become a somewhat regular occurrence.
Advertisement - story continues below
Biden has no idea where he is. pic.twitter.com/MTUr1osVGy

— Caleb Hull (@CalebJHull) April 5, 2022
However, this incident seemed somewhat sad.
As Biden walked alone to the end of the stage, he gestured toward attendees.
Advertisement - story continues below
But when he turned around, the camera panned over and revealed Obama surrounded by lawmakers, including House Speaker Nancy Pelosi (D-Calif.)
Biden then turned around and did not join the crowd.
Check out some of the reactions below:
When you bring your cooler brother to the office and all your co-workers like him more than you pic.twitter.com/iTKmHcregB

— Greg Price (@greg_price11) April 5, 2022
Me when my friends say they'll "be right back" at the bar pic.twitter.com/jDD7303x4f

— Lindsay Wigo (@LindsayWigo) April 5, 2022
Advertisement - story continues below
Literally no one wants to talk to Joe Biden pic.twitter.com/ApZ2saHt71

— RNC Research (@RNCResearch) April 5, 2022
Good lord this is sad… https://t.co/byaAMVkVQu

— Dave Rubin (@RubinReport) April 5, 2022
No video better sums up the Biden presidency.

The man is a puppet and nobody likes him.

Not even his own party. https://t.co/7GQBtlsBcf

— Mercedes Schlapp (@mercedesschlapp) April 5, 2022
Already a lame duck president https://t.co/8vXl852W65

— Tommy Pigott (@TommyPigott) April 5, 2022
Advertisement - story continues below
The moment seems to capture perfectly Democrats' real attitude toward Biden: They didn't really want him as their presidential nominee but thought he had the best shot at defeating former President Donald Trump in the general election.
There was plenty of reporting during the 2020 Democratic primary about concerns within the party that Sen. Bernie Sanders (I-Vt.) might win the nomination and lose to Trump.
And in the run-up to Super Tuesday, we saw the field of Democrats shrink massively as candidates dropped out and endorsed Biden in a last-ditch effort to stop Sanders from steamrolling through the primaries.
The polls appear to suggest that voters now aren't too thrilled with Biden either, despite him enjoying the first half of last year with approval ratings above 50%.
Advertisement - story continues below
After the chaotic withdrawal from Afghanistan, Biden's approval ratings began their decline and have not recovered.
He currently has the lowest approval rating of any president, aside from Trump, going back to the 1950s.
Additionally, an AP-NORC Center for Public Affairs Research poll from January found that a majority of Americans don't want Biden to run again.
He accomplished the job of getting rid of Trump.
Advertisement - story continues below
Now, they appear to be over him.
Truth and Accuracy
We are committed to truth and accuracy in all of our journalism. Read our editorial standards.
Comment Down Below
Conversation